Airwolf 3D has been encouraging youth and teaching teachers to build and operate 3D printers for the classroom for nearly a year.
WASHINGTON--Airwolf 3D will be showcasing its American-made high-performance 3D printers in Booth #3125 Hall C at the 3rd USA Science & Engineering Festival taking place April 26 and 27 at the Walter E. Washington Convention Center here from 9am to 6pm daily.

Airwolf 3D has been encouraging youth and teaching teachers to build and operate 3D printers for the classroom for nearly a year. To demonstrate its commitment to the K-12 community, the company sponsored the 2014 Maker Challenge, a collaborative project of Career Technical Education of Orange County California that provided an opportunity for local students to participate in an integrated STEM design project.
For the largest science festival in the United States, Airwolf 3D will demonstrate how students can use 3D modeling and printing to design and build or significantly repurpose products that will solve problems, needs, or wants.
Airwolf 3D is noteworthy in that it uses its own 3D printers to replicate themselves nearly 24/7 at the company's headquarters. Not only does this maintain quality control, it enables Airwolf 3D technicians to seamlessly refine and improve the machines. The process also acts as quality control (QC) to ensure the 3D printers perform flawlessly over long periods of continuous use.
Airwolf 3D's flagship product is the AW3D HD that features a class-leading build envelope of 1,150 cubic inches (12" x 8" x 7"), making it ideal for large prototyping. Because the 3D printer is fully autonomous, no link-up to a computer is required. The AW3D HD 3D printer comes standard with Matter Control Pro host software and a six-month warranty. It's compatible with both Windows and Mac computers and accepts 16 materials from multiple sources, making it remarkably cost efficient.
About The USA Science & Engineering Festival
The USA Science & Engineering Festival is the country's only national science festival. It was developed to increase public awareness about the importance of science and to encourage youth to pursue careers in science and engineering by celebrating science in much the same way we celebrate Hollywood celebrities, professional athletes and pop stars. Lockheed Martin is the founding and presenting sponsor of the Festival, a grassroots collaboration of more than 1,000 of the leading science and engineering organizations. For more information, visit www.USAScienceFestival.org, connect with the Festival on Facebook, and follow us on Twitter @USAScienceFest.
About Airwolf 3D
Airwolf 3D is committed to manufacturing high-performance 3D printers that are fast, affordable, durable and easy to use. All 3D printers are made in America, manufactured in the company's 5,000 sq. ft. facility in Costa Mesa, Calif. Currently, Airwolf 3D printers can be found in engineering firms, government agencies and schools worldwide. For more information visit www.airwolf3d.com, telephone (949) 478-2933, email info@airwolf3d.com, or visit the company's showroom at 130 McCormick, Suite 112, Costa Mesa, CA 92636 for a free demonstration.
Featured Product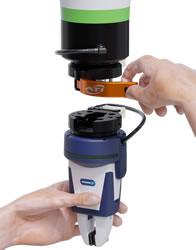 Simpler, stronger, and more precise. ATI Industrial Automation has developed a series of Manual Tool Changers that provides a cost-effective solution for quickly changing tools by hand. They feature a unique design that combines high strength, excellent repeatability, and a patent-pending screw-cam locking mechanism with multiple fail-safe features, which resists vibration and prevents loosening. These robust and compact Manual Tool Changers can handle payloads up to 80 pounds (36 kg) and pass pneumatics and electrical signals.