Rodin (rho-DAN) Wheels had two full-sized mountain bike wheels 3D Printed and took them "off-road" in the making of the video for their Kickstarter crowd funding campaign. Riding these prototypes turned into quite an adventure, highlighting why the Rodin Mountain Bike Wheel is the ideal project to introduce the World to mind expanding 3Drsr Technology.
San Diego, CA May 01, 2014

3Drsr™ (Rapid Structural Replication) Technology is the patented process developed by Fastcore, LLC that sets industrial designers and engineers free to design complex one-piece hollow organic shapes, which create structures with geometries that exhibit tremendous efficiency in resisting torsion and absorbing energy across the entire part. The new Rodin Wheels are the perfect showcase for 3Drsr™ Technology in that they possess a aesthetically pleasing form, which has been described as "Functional Sculpture," yet are so complex that no other technology could produce them as quickly or cost effectively.
The small but dedicated team at Rodin Wheels has set out to produce a set of Mountain Bike wheels that are ultra-durable, never need truing and virtually eliminate pinch flats. They also understand the wheels need to be affordable so as many bikers as possible can enjoy the true essence of biking: "It's about the ride." The Rodin team chose the crowd funding site Kickstarter to launch their wheel project. A big part of a Kickstarter campaign is the video which highlights prototypes of the product you wish to produce. So the team sent their computer model of the Rodin Wheel to Solid Concepts who 3D Printed two full sized wheels using the FDM printing process. Each wheel took 32 hours to print and then hours of sanding and painting to be presentable in the video. All together each wheel cost about $3,000 and took 36 hours to produce. The team said the real dicey part came when Garrett, the team rider, was asked to jump the bike off of some rock drop offs while riding on the 3D Printed prototype wheels. They said it didn't go exactly as planned, but they managed to produce a very high quality video because of all the footage they had shot before trying to "go big."
For the "real" production of Rodin Wheels, 3Drsr™ Technology will be employed, which in contrast to 3D Printing's slow production time and high cost, will produce a fully structural one-piece hollow mountain bike wheel in less than 5 minutes for under $200. Kirk Jones, the inventor of the patented 3Drsr™ Technology, pointed out that this didn't happen overnight but has been a process of more than 20 years of R & D and continuous improvement. Having started with the very cumbersome and expensive traditional "Lost Core Molding" equipment, Fastcore, LLC has greatly reduced both the capital equipment cost and equipment footprint while at the same time increased both the speed and reliability of the cell which is now deemed 3Drsr™. Jones stated, "I can see the day coming very soon when Rapid Structural Replication, when combined with rapid tooling technologies, will cost effectively capture many very different and complex projects at volumes as low as dozens of parts and up to hundreds of thousands of units, on a single highly flexible production cell." 3Drsr™ will soon become another arrow in the quiver of the 3D Printing Service Bureaus because it can produce fully structural parts at incredibly fast speeds.
Jones also said, "3Drsr™ sets industrial designers and engineers free to combine multiple parts into one and create beautiful free flowing organic shapes that are hollow with internal ribs or features where needed." 3Drsr™ Technology equipment is laid out in a compact cell arrangement whereby the part handling functions are performed by integrated 6 axis articulating robots for speed and reliability.
So what does closing the reality gap look like for the Rodin Wheel project? 3Drsr™ Technology can produce 400 "real" wheels in the same amount of time that 3D Printing produces one prototype that can't be safely ridden. Further closing the gap, the 3Drsr™ Technology Cell only costs about twice as much as the large format FDM Printer while producing more than 400 times the output per hour. For additional information on Rodin Wheels please visit the website: http://www.rodinwheels.com or for 3Drsr™ Technology contact Kirk Jones at 760-598-6761.
Featured Product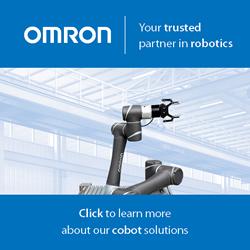 Humans and robots can now share tasks - and this new partnership is on the verge of revolutionizing the production line. Today's drivers like data-driven services, decreasing product lifetimes and the need for product differentiation are putting flexibility paramount, and no technology is better suited to meet these needs than the Omron TM Series Collaborative Robot. With force feedback, collision detection technology and an intuitive, hand-guided teaching mechanism, the TM Series cobot is designed to work in immediate proximity to a human worker and is easier than ever to train on new tasks.