Sparton Corporation has announced that Sparton Navigation and Exploration will introduce its GPS/ GNSS Assisted Inertial Navigation System, GAINS-10 at AUVSI 2014. GAINS-10 provides accurate inertial navigation in the presence of mechanical shock, transient platform vibrations and extreme magnetic interference.
It features high speed, synchronous sampling of all inertial systems combined with high rate coning and sculling compensation and is fully calibrated across temperature.

"The GAINS-10 delivers precise performance in complex environments," said Jim Lackemacher, Group Vice President of Sparton's Defense & Security Engineered Products. "Sparton's GAINS-10 provides flexible integration options and platform customization."
Features of GAINS-10:
*Advanced EKF implementation coupled with Sparton's proprietary AdaptNav™ sensor fusion algorithms
*Multi-GNSS receiver module using multiple satellite constellations in parallel
*10 DOF High Performance Inertial Measurement Unit
*Enhanced MEMS sensing technology (3-axis magnetic, 3-axis acceleration, 3-axis gyro and barometer)
*High speed synchronous sampling of all inertial sensors
*Customizable on-board high speed digital filtering
*Sculling and coning compensation
*High speed data logging capability to off-board µSD card
*Ruggedized, shockproof design, with proprietary seals that allow barometric pressure sensing combined with IP67 performance
*Low power consumption with power management functionality (Sleep Mode)
*Interface to external GPS receiver
*External data interface via Multi-GPIO connectivity
*Powerful user programmable customizations via NorthTek™ Forth interpreter
Sparton AUVSI 2014 Events Schedule: Sparton Navigation and Exploration will be featured at the "Beyond the Booth" showcase Wednesday, May 14th at 11:30am (EDT).
Throughout the AUVSI show, Sparton will host the following in-booth presentations each day along with live demonstrations.
*10:30am - 10:45am - Sparton Products and Features Overview
*11:30am - 11:45am GNSS/GPS Assisted Inertial Navigation: the GAINS-10
*1:15pm - 1:30pm - Inertial Measurement: The IMU-10
*3:30pm - 3:45pm - Navigation Development System Demonstration
*4:00pm - Drawing
Visit www.spartonnavex.com for additional product information and to purchase the full line of Sparton Navigation and Exploration products.
About Sparton Corporation:
Sparton Corporation (NYSE:SPA), now in its 114th year, is a provider of complex and sophisticated electromechanical devices with capabilities that include concept development, industrial design, design and manufacturing engineering, production, distribution, field service, and refurbishment. The primary markets served are Medical, Military & Aerospace, and Industrial & Instrumentation. Headquartered in Schaumburg, IL, Sparton currently has six manufacturing locations worldwide. Sparton's website may be accessed at www.sparton.com.
Source: http://sparton.com/
Featured Product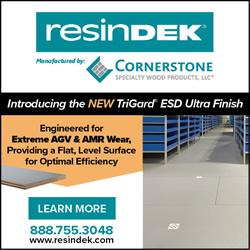 ResinDek flooring panels are designed for elevated platforms such as mezzanines, pick modules, and work platforms. They have the proven structural integrity to support dynamic and static rolling limits from 2,000 to 8,000 lbs. ResinDek flooring panels are available in a multitude of options that are customized for load capacities, required finish type, volume and type of traffic including heavy rolling pallet jack loads and robotic traffic with AGVs and AMRs.