Expo Featuring the Largest Collection of 3D Printers and 3D Printing Technology Under One Roof to Commence August 22nd - 23rd at Hyatt Regency Bellevue, WA
3D Printer World Expo 2014 Bellevue

BELLEVUE, Wash.--3D printing is the next great convergence point for disruptive technology, innovation, engineering, creativity, jobs and global competitiveness. Many people view 3D printing as a scifi-in-real-life technology still on the horizon. In reality, it's revolutionizing prototyping, small-run manufacturing, art, medicine, architecture and much more. From a new generation of modern medical marvels to mind-bending art and design, 3D printing is driving evolutionary leaps forward across vast swaths of art and industry.
On August 22nd, this technology will be on display at 3D Printer World Expo Bellevue - a two-day event featuring the largest collection of 3D printers and related technologies ever assembled under one roof at the Hyatt Regency Bellevue. The exhibits will be complemented by more than 30 immersive education tracks and attractions featuring special blockbuster movie props and costumes, architecture, art displays and design demos, as well as networking opportunities for entrepreneurs, investors, professionals, educators and artists.
Early bird discounts are available through June 15.
Expo highlights include:
*The largest collection of 3D printers under one roof
*An exhibit floor filled with live demos of the latest in 3D printing technology
*The Great 3D Printer Giveaway - a dozen printers will be awarded to attendees via random drawing, giving every attendee a chance to come home with a free 3D printer
*Three concurrent 3D printing education tracks, including:
**A Markets & Applications track for entrepreneurs, investors, businesspeople and engineers pursuing the competitive, operations and marketing advantages of 3D printing. Topics range from prototyping to workflows to 3D print licensing, merchandising and product customization, and several case studies will be presented.
**A Design track featuring seminars on 3D modeling techniques, kit bashing, turning 2D designs into 3D prints, working with scans, and how to monetize all manner of art and designs with 3D printing technologies and service bureaus.
**A 3D Printing Tutorials track covering topics such as hardware and software fundamentals, common and exotic 3D printing materials/filaments, crowdfunding projects and starting a 3D printing business.
*A Content Creation Center where professional digital artists will conduct live 3D modeling demonstrations and help attendees make designs of their own.
*Movie Magic - a Legacy Effects exhibit featuring 3D printed suits and other gear from Hollywood blockbusters such as Iron Man, Pacific Rim, Avatar, and this summer's Godzilla.
*A Buil3D Pavilion featuring a fascinating display of 3D printed architectural feats including additive manufacturing breakthrough Saltygloo and the Involute Wall-a prototype for thermal mass and acoustic dampening in a massive, 3D-printed sand structure.
*The 3D Printer World Expo Museum and Art Gallery featuring the works of many of the world's leading 3D Print artists, including Bathsheba Grossman, Joshua Harker, Kevin Mack and Gil Bruvel.
For more information, visit www.3dprinterworldexpo.com.
For booth and sponsorship information, visit http://www.3dprinterworldexpo.com/book-a-booth
About 3D Printer World Expo
3D Printer World Expo Bellevue, hosted by 3dprinterworld.com, brings together the largest range of 3D printers, technology and professionals ever assembled under one roof. The two-day event, which includes exhibits, demonstrations, education tracks, contests and networking opportunities, takes place August 22nd and 23rd at the Bellevue Hyatt Regency. To register, or for more information, visit www.3dprinterworldexpo.com.
About 3dprinterworld.com
3dprinterworld.com is the 3D printing industry's leading online resource, delivering groundbreaking content on 3D printing technologies and applications in art, design, science, business and manufacturing.
Featured Product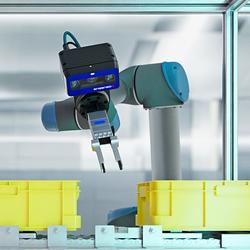 IDS NXT: a platform for a new generation of vision systems for industrial applications. It lays the groundwork to provide easy-to-use yet flexible complete systems that can be used to implement all steps of a vision solution. With IDS NXT ocean, a complete solution especially for AI-based image processing is now available. It allows to solve tasks where classic, rule-based image processing has reached its limits - without any programming effort.