The Nomad 883 is a desktop CNC Milling Machine that will turn your desktop into a workshop. With the Nomad 883 you can start making parts on day one.
El Segundo, CA May 07, 2014

The Nomad 883, a CNC desktop milling machine, surged past its Kickstarter goal. The company met their initial funding target of $30,000, in just over 15 hours. After one week it has surpassed $200,000.
"Our idea has always been that engineers, designers, and makers have projects that require a CNC machine but they're not interested in a machine that becomes a project in itself," said Rob Grzesek, co-founder of Carbide 3D, the company behind The Nomad. "We've heard from backers all over the world that The Nomad was the ready-to-run solution they'd been looking for."
https://www.kickstarter.com/projects/178590870/the-nomad-cnc-mill
The Nomad can make parts out of wood, plastic, synthetics, or metal, and doesn't require a machinist or a professional craftsman to use it. The Nomad is fully enclosed for quiet, dust-free operation, and it's available with an office-friendly bamboo enclosure, or durable HDPE plastic that is perfect for a shop environment.   
The brainchild of Rob Grzesek and Jorge Sanchez, both electrical engineers, and designer Apollo Crowe, The Nomad was designed to fill the gap between huge milling machines, which are expensive and complicated, and the 3D printers that are easy to operate, but limit the materials you can use.
"We designed the machine from the ground up to address the complaints we've heard about CNC machines - from designing our own spindle to adding automation like tool length probing and custom fixtures to simplify common job setups. We think this is the next step in the recent Digital Manufacturing trend started by low-cost 3D printers," said Grzesek.
The Nomad comes with all the necessary software to start cutting 2D or 3D design files from a Mac or Windows computer. Unlike other machines, there is no need to shop for separate software, and The Nomad can read the same files used for 3D printing.
Grzesek and Sanchez spent nine years running a product development company, doing work for Fortune 500 companies before starting work on a new CNC mill.
The Nomad is made in the U.S.A. and all the final assembly and testing is done at the Carbide 3D facilities in El Segundo, California.
High-resolution pictures of the Nomad 883 are available on request.
Video Link: https://www.youtube.com/watch?v=Ifs2vF5CT9w
Kickstarter Link: https://www.kickstarter.com/projects/178590870/the-nomad-cnc-mill
Company Website: http://carbide3d.com
P.R. Contact: Lynn Stone - lynn(at)carbide3d(dot)com
Featured Product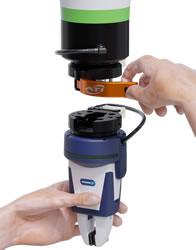 Simpler, stronger, and more precise. ATI Industrial Automation has developed a series of Manual Tool Changers that provides a cost-effective solution for quickly changing tools by hand. They feature a unique design that combines high strength, excellent repeatability, and a patent-pending screw-cam locking mechanism with multiple fail-safe features, which resists vibration and prevents loosening. These robust and compact Manual Tool Changers can handle payloads up to 80 pounds (36 kg) and pass pneumatics and electrical signals.