10 Companies from Preeminent Hardware Accelerator Include High Speed 3D Printers, Robotics and Health & Fitness Products
SAN FRANCISCO--HAXLR8R, the world's most active hardware accelerator program, last night unveiled its latest class of 10 new hardware companies at the 4th HAXLR8R Demo Day held in San Francisco. The 111-day program based in Shenzhen, China provides promising hardware startups with full access to the best in product design, iterative manufacturing, funding and more than 50 top-tier mentors.

"The HAXLR8R accelerator program serves as a window into key technologies and breakthroughs in hardware design and the fourth class of brilliant products is another powerful example of that," said Cyril Ebersweiler, founder of HAXLR8R and venture partner at SOSventures. "The maturity of the products from this class is a testament to what is possible when you combine great ideas with an ideal process for bringing hardware products from concept to manufacturing to market."
HAXLR8R's fourth class includes:
*Avidbots: Robots clean our homes but how about commercial spaces? Avidbots developed the first autonomous commercial floor sweeping and scrubbing robot that uses laser mapping technology to plan the most efficient cleaning path.
*Darma: Sitting is the new "smoking". Darma is helping us learn sitting wisdom. It is a smart cushion and iOS app that measures sitting posture, heart rate and respiration patterns to determine overall stress levels and improve our sedentary health.
*Hoard: The sharing economy still has too much friction. Hoard is a small, smart locker system that creates a secure network of pick-up and drop-off points for users to share physical keys.
*Kast: Most desktop 3D printers are only suitable for slow, low quality prototyping. Kast is a high-speed 3D printer with economics that enable small businesses to flourish.
*Niwa: Sustainable living is key to our future. Niwa is a smart, hands free hydroponic greenhouse designed to grow farm fresh vegetables in your living room with sensors controlled by a mobile app.
*Otto: New hardware platforms and communities and the key to the future of "apps for things." Otto is the first commercial camera powered by Raspberry Pi that makes animated gifs that connects to any smartphone for instant sharing.
*Quitbit: You can't manage what you don't measure. The world's first smart lighter and app that helps people track and reduce their smoking habit by providing set goals, reviewable stats and provides support system outreach.
*Rational Robotics: Robots were once limited to factory floors. Rational Robotics make them accessible to the shop floor. This robot uses scanning technology to paint an endless variety of car parts on aftermarket purchases.
*Shot Stats: Improvement in tennis begins with understanding your game. Shot Stats is a smart racket dampener designed to improve tennis players' performance through instant swing analysis.
*Syrmo: Action sports are all about the moment of action, style and self-expression. Syrmo is a motion tracker for skateboards that instantly tracks tricks, stats and records videos directly to a mobile app.
For video from this year's Demo Day, please visit: Link
To view the full presentation, please visit: Link
HAXLR8R is currently taking applications for its fifth class until May 25. Apply at www.haxlr8r.com/apply.
About HAXLR8R
HAXLR8R ("Hack-celerator") is a mentor-driven seed accelerator designed to identify, invest in, and support entrepreneurs who are solving world issues by blending hardware and software technologies. HAXLR8R selects the best companies from around the world to take place in a 111-day intensive program based in the mecca of electronics: Shenzhen, China. To date, HAXLR8R has presented over 30 companies to the world and is considered to be the poster child of the 'hardware renaissance'. For more information, visit www.haxlr8r.com, follow us on Twitter @haxlr8r and follow the HAXLR8R companies on Kickstarter www.kickstarter.com/pages/haxlr8r.
Featured Product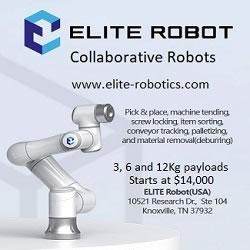 ELITE ROBOT lightweight 6-axis collaborative robots have payloads of (3kg, 6kg, and 12kg cobots). ELITE ROBOT cobots have gained a positive reputation among users in the Automotive, Electronics, Packaging Logistics, Metal Processing, Rubber & Plastics, chemicals, and other industries. The EC series robots start at $14,000 USD making it one of the fastest ROI in the industry. The EC robots come complete with 6 DOF arm, control box, teach pendant and software.