The AW3D HDx 3D printer upgrades the current AW3D HD, with higher acceleration, faster movement and more accurate positioning.
COSTA MESA, Calif.--(BUSINESS WIRE)--Until now the only way engineers and designers could print prototypes and parts fabricated from polycarbonate, nylon and other engineering-grade materials requiring high temperatures was to purchase large, expensive 3D printers.

Today, Airwolf 3D announced a major price/performance breakthrough with the introduction of its AW3D HDx, a desktop 3D printer that prints engineer-grade materials for $3,495 (MSRP).
Based on the proven AW3D frame, the HDx comes standard with Airwolf 3D's advanced JRx (jam resistant) hot end. The patent-pending JRx can sustain temperatures of 315 degrees Celsius (599 degrees Fahrenheit), which easily handles polycarbonate, Bridge nylon, Nylon 645 and over a dozen other materials.
"Imagine a 3D printer that can print engineering-grade materials placed on every desktop," said Erick Wolf, founder and CEO of Airwolf 3D. "Imagine the creativity it could unleash as engineers and artists experiment and create objects that until now were virtually impossible to affordably print. That's our vision: to bring imagination to the desktop."
The AW3D HDx 3D printer upgrades the current AW3D HD, with higher acceleration, faster movement and more accurate positioning. It also uses nylon gears for less wear and longer life and a finer pitch lead screw for increased z positioning accuracy. It features a class-leading build envelope of 1,150 cubic inches (12" x 8" x 12"), making it ideal for large prototyping. The printer offers layer-to-layer resolution as fine as 0.06mm and a maximum print speed of 150mm/s with a positioning precision of 0.02mm. No link-up to a computer is required and it comes fully assembled and calibrated.
For current customers, Airwolf 3D's JRx hot end can be retrofitted on existing AW3D HD and AW3D XL 3D printers, providing an inexpensive upgrade path that enables them to print engineering-grade materials.
About Airwolf 3D
Airwolf 3D is committed to manufacturing high-performance 3D printers that are fast, affordable, durable and easy to use. All 3D printers are made in America, manufactured in the company's 12,000 sq. ft. facility in Costa Mesa, Calif. Currently, Airwolf 3D printers can be found in engineering firms, government agencies and schools worldwide. For more information visit www.airwolf3d.com, telephone 949-478-2933, email info@airwolf3d.com, or visit the company's showroom at 130 McCormick, Suite 106, Costa Mesa, CA 92636 for a free demonstration.
Featured Product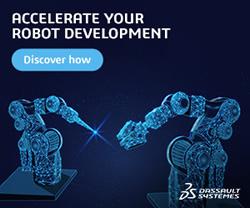 The 3DEXPERIENCE platform on the cloud provides robotics companies with a unified and collaborative solution to manage their end-to-end process in an effective way by bringing together all teams and disciplines involved and guarantee digital continuity during the entire product lifecycle. Connect the dots from robot design to marketing activities, from production to maintenance and bring your robot to market up to 30% faster!