Premier Digital Customer Experience: Every client project reviewed has a PFA 3D CAD model proving the ROI for their online part catalog built by CADENAS PARTsolutions.
Cincinnati, OH May 14, 2014

Industrial Automation Manufacturer, PFA Incorporated, has discovered that 99% of all customer projects reviewed by their engineering design team, already include a 3D CAD model generated by their online parts catalog, designed by CADENAS PARTsolutions. This remarkable insight proves the inherent business value that their 3D parts catalog delivers, making ROI a slam-dunk.
PFA, a Wisconsin based manufacturer of industrial automation, injection molding and associated products, is best known for their KOR-LOK® Side-Action System products and self-locking cylinders, which are available to configure and download within the PFA online parts catalog.
Many industrial manufacturers provide configurable 3D CAD models of their products, but PFA Inc. takes it a step further. When customers spec a PFA part into a new design and request a quote, PFA provides an application review to ensure the product specified will meet the exact customer requirements. Through this process PFA has visibility to every new design in which their products are used. 99% of the time, the design already features a model generated by the PFA online part catalog.
"We already knew our 3D CAD models were having a positive impact on our business. Typically, two days after a part is downloaded, we get a call or an email from the same customer looking for a quote. Connecting the dots wasn't too tricky," says Mark Scanlan, Vice President and GM of PFA Inc. "What really blew us away, was the adoption rate when we would provide application reviews. 99% of the time the design already featured a model generated by our online configurator. Nobody was drawing parts themselves or sourcing elsewhere."
"PFA has done a fantastic job utilizing their online part configurator and staying in touch with their customer base, making their digital customer experience a top priority," says Tim Thomas, CEO of CADENAS PARTsolutions. "The key to success is staying abreast of industry demands and listening to your customer needs. PFA is doing a great job of that and their investment is paying off."
About PFA Inc.
PFA, a Wisconsin based manufacturer of factory automation and injection molding products to serve a variety of industries and applications. PFA is a leader in the design and manufacture of True Locking Core Pull Cylinders (KOR-LOK®), Quick Die Change Systems (QDC), Quick Mold Change Systems (QMC), Multi-Slide Die Casting Solutions, Industrial Locking and Braking Cylinders, and Robotic Automation End-Effectors. Find out more at http://www.pfa-inc.com
About CADENAS PARTsolutions
CADENAS PARTsolutions is a leading provider of next generation 3D part catalog management and sales configuration solutions. For large manufacturers, CADENAS PARTsolutions provides centralized 3D standard part catalogs making it easy for global design teams to find, reuse, and control standard and proprietary parts. For component manufacturers, CADENAS PARTsolutions provides 3D part catalog with CAD download technology to increase sales lead generation and to ensure that components get "designed in" to OEM products. http://www.partsolutions.com
Featured Product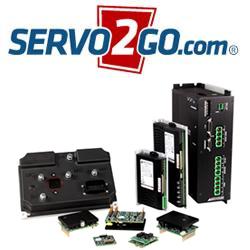 Engineered to drive brushless and brush servomotors in torque, velocity or position mode, Servo2Go.com offers a broad selection of servo drives in a wide range of input voltages and output power levels.