Solid Concepts challenges designers to take on the world of sports in the company's first ever design challenge.
Valencia, CA May 20, 2014

Solid Concepts, the largest dedicated service provider of rapid prototyping in North America, is offering a unique design challenge to 3D printing experts and enthusiasts alike. The challenge requires participants to design a deck for a skateboard. Two lucky winners will receive their skateboard deck 3D printed for free.
Challenge Parameters:
*Skateboard decks must be structurally sound, challenging to traditional deck designs and unique.
*Skateboard decks must fit within certain design parameters:
** Length cannot exceed 25.5"
** Deck must be at least 0.475" thick
*Designs must be submitted to Solid Concepts no later than June 30th.
The top five finalists will be uploaded to the Solid Concepts Facebook page, where they will be judged by a panel of their peers. The two designs with the highest amount of Facebook "Likes" will receive 3D printed versions of their skateboard decks, ready to ride.
Solid Concepts will use their Selective Laser Sintering (SLS) process to manufacture the 3D Printed skateboard decks for the two finalists. SLS is a 3D printing process which uses a bed of powdered nylon and a CO2 laser to melt material layer by layer. It's a durable process frequently used in aerospace applications. Skateboard decks will be printed with Nylon 12 PA. For more information, visit blog.solidconcepts.com.
About Solid Concepts
Solid Concepts Inc. provides custom manufacturing solutions via additive manufacturing, rapid prototyping, CNC machining, cast urethanes, injection molding and tooling. Since 1991, Solid Concepts has provided engineering expertise from multiple fields to bring success to new products in the aerospace, medical, consumer product industries and more. Capabilities in PolyJet, Stereolithography (SLA), Plastic and Metal Laser Sintering (SLS & DMLS), Fused Deposition Modeling (FDM), QuantumCast™ Cast Urethanes, CNC, Tooling and Injection Molding allow for low to high volume production of plastics, urethanes, and metals directly from design data, resulting in significant time and cost savings. ISO 9001 and AS9100 certifications. http://www.solidconcepts.com
Featured Product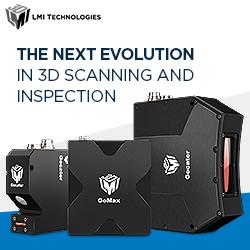 Every robot needs eyes to see, think, and do. Gocator® 3D smart sensors add powerful vision-guidance and inspection capability to industrial robots. You can use these sensors in a wide variety of factory automation applications. Pair them with scara, delta, and collaborative robots to create complete robotic solutions that deliver high-performance 3D results in vision-guidance, quality control inspection, and automated assembly with smart pick-and-place. Make your robot FactorySmart® with Gocator 3D smart sensors.