Investment will support Grabit's commercialization of its electroadhesion technology for material handling
SANTA CLARA, Calif., June 2, 2014 /PRNewswire/ -- Grabit Inc., an industrial automation and material handling solutions company today announced that it has received investment funding from Flextronics Lab IX and Draper Nexus Ventures. The investment will provide Grabit additional funding for development of electroadhesion based products for industrial robotics and warehouse logistics.

"We are delighted to have Flextronics and Draper Nexus as new investors," said Charlie Duncheon, CEO and co-founder of Grabit Inc. "Flextronics brings a wealth of manufacturing experience and supply chain solutions expertise to support our growth, and Draper Nexus provides access to global opportunities, especially in Japan."
Grabit's patented electroadhesion technology enables completely new solutions in robotic parts handling, parts fixturing, warehouse logistics and conveying systems. Electroadhesion is a highly-flexible, ultra-low energy technology that enables the grasp and release of parts. The technology eliminates the need for bulky, energy-intensive conventional vacuum grippers, or expensive part specific fixtures.
"We believe that Grabit's electroadhesion technology is one of the most advanced solutions available for manufacturing and industrial automation," said Lior Susan, VP of Ventures and Head of Flextronics Lab IX. "As a leader in supply chain innovation, we look forward to working with Grabit to provide additional supply chain solutions for our customers."
Grabit has more than a dozen customers, including several Fortune 500 companies in textiles, printed circuit board (PCB) manufacturing, parcel shipping and warehouse logistics. Grabit's technology provides these customers with improved productivity and expanded capabilities by offering increased flexibility, energy savings, and noise reduction.
"Draper Nexus is proud to partner with Grabit and help in the company's next phase of growth," said Q Motiwala, Managing Director at Draper Nexus. "We were looking into investing in the industrial automation/robotics space, and conducted extensive due diligence on several companies. We selected Grabit because no other company came close to its strong customer value proposition, stellar management team, and differentiated intellectual property and innovation."
About Grabit, Inc.
Grabit Inc. is poised to revolutionize the multi-billion dollar material handling market with its patented electroadhesion technology. Electroadhesion is an electrically controllable adhesion technology that requires ultra-low power consumption. Grabit manufactures material handling solutions for textiles, printed circuit boards (PCBs), parcel shipping and warehouse logistics. Grabit's products include grippers, fixtures, and smart conveyors. These products enable new applications and deliver customer-validated direct and dramatic benefits to the bottom line with unprecedented flexibility, performance and low operating costs. For more information visit www.grabitinc.com
About Flextronics
Flextronics (Reg. No. 199002645H) is a leading end-to-end supply chain solutions company that delivers design, engineering, manufacturing and logistics services to a range of industries and end-markets, including data networking, telecom, enterprise computing and storage, industrial, capital equipment, appliances, automation, medical, automotive, aerospace and defense, energy, mobile, computing and other electronic product categories. Flextronics is an industry leader with $26 billion in sales, generated from helping customers design, build, ship, and service their products through an unparalleled network of facilities in approximately 30 countries and across four continents. Flextronics service offerings and vertically integrated component technologies optimize customer supply chains by lowering costs, increasing flexibility, and reducing time-to-market. For more information, visit www.flextronics.com or follow us on Twitter @flextronics.
About Draper Nexus Ventures
Draper Nexus is a US-Japan cross border venture capital firm and are part of the DFJ Global Network with offices based in both Silicon Valley and Tokyo. Draper Nexus leverages its wide industry relationships in Japan to create a customer development advantage for its portfolio companies. Draper Nexus GP team has extensive experience in international market business development and has successfully helped several startups in the US and Japan expand beyond their traditional borders. For more information, visit www.drapernexus.com
Featured Product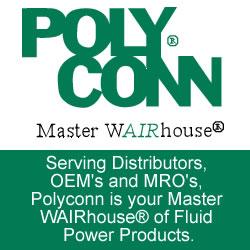 We can produce pneumatic hose and other pneumatic products to match your exact specifications. Our proficient engineering and quality management, coupled with outstanding customer service means Polyconn delivers high quality pneumatic components at competitive prices. Place your order or contact Polyconn for more information on our pneumatic hoses, pneumatic manifolds, Duratec® Pipe or any of our other top quality pneumatic products and components.