Resource Center to focus on advancements in lightweight materials.
From automakers to the aerospace industry, manufacturers have turned to aluminum, plastics and other lightweight materials in the past 40 years to increase the energy efficiency and performance of their products.

Advanced composite materials used to shed weight in aircraft and aerospace structure designs, are being used in many industries - including construction, marine, wind energy, sporting goods, high-speed rail, trucking and automotive - as a key component in the battle to improve fuel savings and performance.
"Lightweighting, in terms of the strategy being undertaken by most original equipment manufacturers (OEMs) and other industries, is particularly relevant at the moment due to the new global emission and corporate average fuel economy (CAFE) standards that are driving the automotive industry," said Martin Kinsella, director of advanced materials and process technologies at COMAU.
The new federal standards are pushing manufacturers at all levels to reexamine common methods and materials used to produce parts. The standards are also spurring the development of improved processes and practices through innovation and technology.
The changes are the main reason SME's THE BIG M event will include an Advanced Materials and Lightweighting Resource Center, where attendees can explore advanced materials available for lightweighting and performance improvement opportunities. The center will showcase several samples enabling event goers to see and touch the materials, as well to speak with industry experts.
Because advanced materials play such a crucial role in the lightweighting process, their cost and availability are major concerns for manufacturers.
"Getting these advanced materials manufactured at an acceptable cost and with robustness is a big part of the challenge facing manufacturers," said Alan Taub, PhD, chief technology officer, American Lightweight Materials Manufacturing Innovation Institute (ALMMII). "The institute will address these challenges and will focus on manufacturing processes for advanced metals solutions."
For more information about THE BIG M, to view conference and exhibit details or to register for any of the event's offerings, visit BigMEvent.com.
Resource Center: Booth 425
Explore advanced materials available for your lightweighting challenges and more. The Resource Center will showcase several samples you can see and touch. It also will feature Knowledge Bar sessions with materials experts. Visit the center to find ideas and solutions.
Tuesday, June 10, 10:30 a.m.-12 p.m.
Lightweighting with Advanced Composite Materials
Tuesday, June 10, 1:30-3 p.m.
Metal to Plastic Conversion & Selecting Right Material
Wednesday, June 11, 10:30 a.m.-12 p.m.
Lightweighting with Advanced Composite Materials
Wednesday, June 11, 1:30-3 p.m.
Metal to Plastic Conversion & Selecting Right Material
About THE BIG M
SME's THE BIG M initiative is years in the making ― designed to convene manufacturers around industry's most vital issues and leverage the power of industry leaders to collaborate and address them. This event demonstrates that manufacturing professionals and companies can shape the future by creating a strong path forward together, connecting people with technology and expertise, affirming the importance of manufacturing, speaking in a unified voice to policymakers, and proving that manufacturing is a knowledge industry where creativity is sought and valued.
Highlights will include Innovation Factories featuring live presentations of the latest technologies; exhibit floor "tech talks" and Q&A sessions with industry experts who will provide the knowledge and insight manufacturers need most. Featured technologies include smart manufacturing, modeling and simulation, digital manufacturing, advanced materials and lightweighting, cybersecurity and more.
THE BIG M is the umbrella pulling together several co-located events including: SME's RAPID Conference & Exposition, the North American Manufacturing Research Conference (NAMRC), the ISA Cybersecurity Conference and the MMTC Proud to Manufacture in Michigan Conference, the Great Lakes Manufacturing Council Manufacturing Forum and the Advanced Manufacturing Partnership 2.0 National Meeting.
About THE BIG M Sponsorships
THE BIG M Event sponsors have invested time and resources to the conference and the future of the manufacturing industry. Among the organizations that have contributed to the event include Michigan Economic Development Corp., Autodesk, The Dow Chemical Co., Kelly Engineering Resources, GE and Dell Inc.
About SME
SME connects all those who are passionate about making things that improve our world. As a nonprofit organization, SME has served practitioners, companies, educators, government and communities across the manufacturing spectrum for more than 80 years. Through its strategic areas of events, media, membership, training and development, and the SME Education Foundation, SME is uniquely dedicated to advancing manufacturing by addressing both knowledge and skill needs for industry. Follow @sme_mfg on Twitter or facebook.com/smemfg.
Featured Product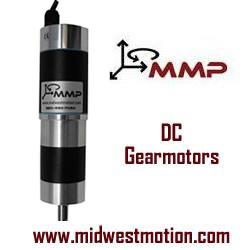 MMP now offers Right Angled Gearmotor designs which allow for significantly increased versatility, with the ability to be installed in tight spaces. We can employ any of our standard Brushed or Brushless Motors with our standard Planetary Gearheads to complete the new R/A Design. The photo is of one of our standard Brushed Motors attached to one of our Standard Planetary Gearheads via our R/A Gearbox design.