Vibrant colors offer options ideal for consumer products, fashion, sporting goods and other market segments
MINNEAPOLIS & REHOVOT, Israel--(BUSINESS WIRE)--Stratasys Ltd. (Nasdaq:SSYS), a leading global provider of 3D printing and additive manufacturing solutions, today released a previously announced extension to its range of flexible and rigid material options for the Objet500 Connex3 Color Multi-material 3D Printer.

"By extending the range of material options available, users can improve workflow speeds and enhance efficiency."
Hundreds of new rubber-like color materials and many rigid ones combined with existing options, allow virtually unlimited combinations of flexible, rigid, and translucent-to-opaque colors in a single print run. The new color options are ideal for creating medical, automotive and consumer product components in popular gray along with vibrant color components that offer true-to-life aesthetics. This allows the production of complete products without manual assembly. And it allows product designers to validate designs and make decisions further in advance of tooling to improve designs and reduce tooling costs, reduce development cycle and time-to-market.
To learn more about the range of new flexible digital materials offered by Stratasys watch the video.
"The Objet500 Connex3 is the only 3D printer that combines colors with multi-material 3D printing. The ability to mix rigid, flexible, transparent and opaque colors offers users unprecedented versatility to design and perfect products faster," says Stratasys Director of Materials & Applications Fred Fischer. "By extending the range of material options available, users can improve workflow speeds and enhance efficiency."
Ranging from transparent to opaque and spanning a wide selection of Shore A values, the new flexible color options comprise six rubber material palettes. These consist of:
Three flexible 72-color palettes, composed of rubber-like (TangoPlus) and combinations of rigid opaque (VeroCyan, VeroMagenta and VeroYellow) materials.
Three flexible 68-color palettes, built with rubber-like (TangoBlackPlus) and combinations of the same rigid opaque (Vero) colors.
Further strengthening its rigid color range, Stratasys also increased the number of gray and subtle color options with:
Three 45-color rigid gray palettes, each of which combines rigid VeroWhite and VeroBlack with colors.
One 45-hue gray palette, with varying levels of translucency, and which includes a reflective luster for the production of sleek, high-quality parts for products such as consumer electronics.
The new flexible color options are available immediately to Objet500 Connex3 Color Multi-material 3D Printer owners through a free software update.
Stratasys Ltd. (Nasdaq:SSYS), headquartered in Minneapolis, Minnesota and Rehovot, Israel, is a leading global provider of 3D printing and additive manufacturing solutions. The company\'s patented FDM®, PolyJet™, and WDM™ 3D Printing technologies produce prototypes and manufactured goods directly from 3D CAD files or other 3D content. Systems include 3D printers for idea development, prototyping and direct digital manufacturing. Stratasys subsidiaries include MakerBot and Solidscape, and the company operates the RedEye digital-manufacturing service. Stratasys has more than 1900 employees, holds over 550 granted or pending additive manufacturing patents globally, and has received more than 25 awards for its technology and leadership. Online at: www.stratasys.com or http://blog.stratasys.com
Stratasys and Objet are registered trademarks, and Objet500, Connex, Connex3, PolyJet, Digital Materials, VeroCyan, VeroMagenta, VeroYellow, TangoBlack, and TangoBlackPlus are trademarks of Stratasys Ltd. and/or its subsidiaries or affiliates.
Cautionary Statement Regarding Forward-Looking Statements
Certain information included or incorporated by reference in this press may be deemed to be "forward-looking statements" within the meaning of the Private Securities Litigation Reform Act of 1995, Section 27A of the Securities Act of 1933, and Section 21E of the Securities Exchange Act of 1934. Forward-looking statements are often characterized by the use of forward-looking terminology such as "may," "will," "expect," "anticipate," "estimate," "continue," "believe," "should," "intend," "project" or other similar words, but are not the only way these statements are identified. These forward-looking statements may include, but are not limited to, statements relating to the company's objectives, plans and strategies, statements regarding the expected performance and impact of our products, statements that contain projections of results of operations or of financial condition (including, with respect to the MakerBot acquisition) and all statements (other than statements of historical facts) that address activities, events or developments that the company intends, expects, projects, believes or anticipates will or may occur in the future. Forward-looking statements are not guarantees of future performance and are subject to risks and uncertainties. The company has based these forward-looking statements on assumptions and assessments made by its management in light of their experience and their perception of historical trends, current conditions, expected future developments and other factors they believe to be appropriate. Important factors that could cause actual results, developments and business decisions to differ materially from those anticipated in these forward-looking statements include, among other things: the company's ability to efficiently and successfully integrate the operations of Stratasys, Inc. and Objet Ltd. after their merger as well as MakerBot after its acquisition and to successfully put in place and execute an effective post-merger integration plans; the overall global economic environment; the impact of competition and new technologies; general market, political and economic conditions in the countries in which the company operates; projected capital expenditures and liquidity; changes in the company's strategy; government regulations and approvals; changes in customers' budgeting priorities; litigation and regulatory proceedings; and those factors referred to under "Risk Factors", "Information on the Company", "Operating and Financial Review and Prospects", and generally in the company's annual report on Form 20-F for the year ended December 31, 2013 filed with the U.S. Securities and Exchange Commission and in other reports that the company has filed with the SEC. Readers are urged to carefully review and consider the various disclosures made in the company's SEC reports, which are designed to advise interested parties of the risks and factors that may affect its business, financial condition, results of operations and prospects. Any forward-looking statements in this press release are made as of the date hereof, and the company undertakes no obligation to publicly update or revise any forward-looking statements, whether as a result of new information, future events or otherwise, except as required by law.
Featured Product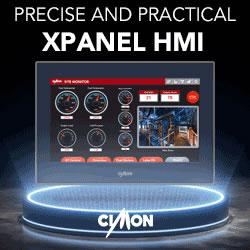 CIMON-XPANEL is a Windows CE based HMI unit. A combination of software and hardware, suitable for various monitoring needs within industrial sites.