The 2014 RAPID was the largest in the conference's 24-year history
DEARBORN, Mich., June 16, 2014 -- EnvisionTEC is pleased to announce that they have been awarded "Best in Show" for their exhibit at this week's RAPID 2014 Conference and Exhibition at Cobo Center in Detroit. The 2014 RAPID was the largest in the conference's 24-year history with over 120 exhibitors and attendance numbering over 5,000 of the world's foremost experts in 3D printing.

Produced by SME (Society of Manufacturing Engineers), RAPID is the 3D printing industry's longest-running trade event and this year was co-located with new trade show The Big M and also the International Manufacturing Research Conference. SME's Rapid Technologies & Additive Manufacturing Community (RTAM) sponsored the Best in Show Award which recognized the winning exhibit for being interactive, technically and aesthetically impressive, and visually appealing and engaging. Conference and show attendees (exhibitors excluded) received ballots with their registration credentials and EnvisionTEC's exhibit was chosen by popular vote.
EnvisionTEC's exhibit showcased a wide variety of 3D printed samples covering a range of applications. The company displayed several versions of its popular Perfactory® Micro family, a Perfactory® 4 Standard featuring its Perfactory® technology, two examples of its latest 3SP™ technology, the ULTRA® 3SP™ and the Xede® 3SP™, as well as its 3D-Bioplotter®.
Significant focus was placed at this year's conference on the innovation and growth of additive manufacturing for the medical and dental industries. EnvisionTEC has developed targeted solutions for both of these industries and is a respected leader for its innovated approaches to using 3D printing to bring these industries new machinery, techniques, and materials. One of EnvisionTEC's best-known innovations, the 3D-Bioplotter®, was presented at the show, drawing interest from attendees to view the new Developer's Series version and hear about the research currently being done using the technology. Dr. Ramille Shah, renowned head of the Tissue Engineering and Additive Manufacturing Lab at Northwestern University, gave a presentation at RAPID regarding her work with the 3D-Bioplotter®.
About EnvisionTEC
EnvisionTEC is a leading global provider of 3D printing solutions for the rapid manufacture of customized products utilizing its proprietary consumables across a variety of markets. Since its first patent submission in 1999, EnvisionTEC has developed and released 3D print solutions consisting of 3D printers, print materials, replacement parts as well as training and other services. EnvisionTEC's proprietary, multi-platform technology delivers high precision, surface quality and functionality as well as the ability to use a wide range of materials at production speeds that it believes are superior to those offered by its competitors. With 18 U.S. patents and 91 foreign patents, EnvisionTEC works with a strong customer and partner base in diverse sectors such as jewelry, hearing aid, dental, consumer, auto manufacturing and design companies. For more information, please visit envisiontec.com.
About RAPID
For nearly 25 years, RAPID, produced by SME, has defined the crucial role of additive manufacturing and empowered the establishment of an industry that continues to conceive, test, improve and manufacture new products at a faster, more cost-efficient pace. As the leader and authority figure in additive manufacturing, RAPID attracts buyers, sellers and end-users of design, prototyping, tooling and direct digital technologies to a world-class event for discovery, innovation and networking. For more information, please visit sme.org/rapid.
About SME
SME connects all those who are passionate about making things that improve our world. As a nonprofit organization, SME has served practitioners, companies, educators, government and communities across the manufacturing spectrum for more than 80 years. Through its strategic areas of events, media, membership, training and development, and the SME Education Foundation, SME is uniquely dedicated to advancing manufacturing by addressing both knowledge and skill needs for industry. For more information, please visit sme.org.
Featured Product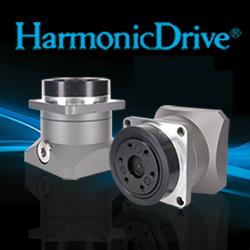 Harmonic Drive LLC, a leader in high precision motion control introduces new lightweight versions of select gearhead products. The new gearheads are ideal for designs where weight is a critical factor. Building on the success of Harmonic Drive LLCs current gear units, new lightweight versions were the next logical evolution of the CS/ SH product lines. With weight reductions of 20-30% without any reduction in torque ratings, the Lightweight (LW) gear units provide exceptional torque density.