New Technologies to Enhance Performance, Reliability and Environmental Profile Showcased at O&S International Trade Fair for Surface Treatments & Coatings
PHILADELPHIA--Dow Electronic Materials, a business unit of The Dow Chemical Company (NYSE:DOW), remains committed to value-added solutions addressing industry demands for reduced environmental impact, enhanced performance, reliability, and cost-effectiveness. At the O&S International Trade Fair for Surface Treatments and Coatings on June 24-26, 2014, Dow Electronic Materials will launch its more sustainable surface finishing solutions for the electronic and industrial finishing markets, which provide alternatives to the use of cyanide, nickel and lead as well as improvements in process efficiencies and waste reduction.

"At Dow Electronic Materials, sustainability is a core value of how we operate as well as a key driver of how we help our customers succeed," said JR Chen, global business director for Dow Electronic Materials. "The solutions that reduce environmental impact are a testimony to the value we place on sustainable practices. We will continue to innovate with customers to advance the metallization industry in a more sustainable manner to protect people and our planet," he said.
Dows cyanide-free silver solutions provide robust performance in both decorative and functional applications. SILVERONTM GT-101 Cyanide Free Silver and SILVERONTM GT-820 Cyanide Free Silver Tin offer excellent brightness, adhesion, contact resistance and solderability, and can be applied to both copper and nickel alloys.
Dows latest electrolytic tin products offer matte and bright tin solutions for electronic finishing applications. SOLDERONTM ST-300T Matte Tin provides excellent distribution over a wide current density range, and SOLDERONTM BHT-350 Bright Tin, a low carbon deposit, demonstrates high ductility from an electrolyte with high cathode efficiency across a wide operating window.
For applications demanding nickel-free finishes, in response to regulatory requirements, Dows cyanide-and-lead-free white bronze solutions replace the use of nickel for human and water contact applications. RONALLOYTM GT-250 White Bronze and AQUALLOYTM GT-640 Cyanide Free White Bronze offer mirror-like, bright white and corrosion resistant bronze deposits.
To realize the needs for selective metallization or etching, Dows LITHOJET™ 200 Series Ink for inkjet masking offers off contact, digital processing with rapid design change, prototyping, and mass production capability. Compared to conventional masking systems, it can provide higher yields and shorter processes with reduced consumables, waste water and power.
Stop by Dow booth at E67 Hall 9 at O&S Trade Fair to talk to industry experts or visit our website to download our Electroplating Technology brochure.
About Dow Electronic Materials
Dow Electronic Materials, a global supplier of materials and technologies to the electronics industry, brings innovative leadership to the semiconductor, interconnect, finishing, photovoltaic, display, LED and optics markets. From advanced technology centers worldwide, teams of talented Dow research scientists and application experts work closely with customers, providing solutions, products and technical service necessary for next-generation electronics. These partnerships energize Dow's power to invent. Its key end-use applications include a broad range of consumer electronics from personal computers, to television monitors, smart phones and tablets and other mobile devices as well as electronic devices and systems used in a variety of industries. More information about Dow Electronic Materials can be found at dowelectronicmaterials.com.
About Dow
Dow (NYSE: DOW) combines the power of science and technology to passionately innovate what is essential to human progress. The Company is driving innovations that extract value from the intersection of chemical, physical and biological sciences to help address many of the world's most challenging problems such as the need for clean water, clean energy generation and conservation, and increasing agricultural productivity. Dow's integrated, market-driven, industry-leading portfolio of specialty chemical, advanced materials, agrosciences and plastics businesses delivers a broad range of technology-based products and solutions to customers in approximately 180 countries and in high growth sectors such as packaging, electronics, water, coatings and agriculture. In 2013, Dow had annual sales of more than $57 billion and employed approximately 53,000 people worldwide. The Company's more than 6,000 products are manufactured at 201 sites in 36 countries across the globe. References to "Dow" or the "Company" mean The Dow Chemical Company and its consolidated subsidiaries unless otherwise expressly noted. More information about Dow can be found at www.dow.com.
Featured Product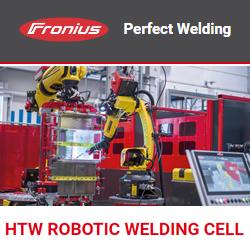 Modular, collaborative, and flexible: the "Handling-to-Welding" robotic welding cell joins parts of different geometries and materials. The task is carried out by two robots - the handling robot positions the workpieces, the second robot performs the welding. Depending on the cell configuration, lock gates are available for the inward and outward transport of parts. Furthermore, various positioners, a TCP measurement system, a torch cleaning system, a gripper station, and a contact tip change system are also possible.