Regional Sales Manager Rick Morton competes in 635-mile race from Newport to Bermuda
POCASsET, Mass.--Hydroid, Inc., a subsidiary of Kongsberg Maritime and the leading manufacturer of autonomous underwater vehicles (AUVs), today announced Regional Sales Manager Rick Morton has successfully completed the 49th Newport Bermuda Race, along with the Kongsberg team. The team finished in five days, placing 10th in their division and 75th overall, out of 162 boats. Only two hours separated the second place boat in their division from the 12th.

Founded in 1926 by the Cruising Club of America and the Royal Bermuda Yacht Club, The Newport Bermuda Race is a 635-mile ocean race spanning from Newport, RI to Bermuda. The highly competitive race typically lasts between three to six days, with land out of sight from almost start to finish. Kongsberg competed aboard Cecilie Viking with a crew of nine+ reserves in the St. Davids Lighthouse Division, the largest division at approximately 90 boats. Morton was the only crewmember from Hydroid.
"It was an honor to race on behalf of Kongsberg this year," said Morton, who grew up in Newport and is a third generation sailor. "Despite light winds, I was very impressed with our crews determination to keep the boat moving in trying conditions. It was a great ride to Bermuda and I am proud to say that I was part of the Cecilie Viking crew."
This was Mortons seventh Newport Bermuda Race; a family tradition that started when his dad and grandfather competed in their first Newport Bermuda Race in 1972. In 1998 Morton was part of the crew that won the race, and in 1982 his father was the skipper on the boat that won. This year, Mortons father and brother-in-law also competed in the race, finishing fourth and second in their divisions. Morton has competed in over 1,000 races, including the Annapolis to Newport Race, the Figawi Race and the St. Maarten Heineken Regatta.
"We are honored to support Ricks lifelong passion for sailing, and thrilled that he was able to participate alongside the Kongsberg team this year," said Duane Fotheringham, President of Hydroid. "Congratulations to this team and all of the teams that competed on a job well done."
This years race was especially meaningful for the Kongsberg team as it aligned with the companys 200th year anniversary. Kongsberg competed in two offshore sailing events this year as part of the Kongsberg Extreme 200 Offshore Race: The Newport Bermuda Race, and the Shetland Race in Norway.
For more information about Kongsberg and their Extreme 200 Offshore Racing, please visit http://e200or.blogspot.no/
About Hydroid, Inc.
Located in the U.S. and a subsidiary of Kongsberg Maritime, Hydroid is the world's most trusted manufacturer of autonomous underwater vehicles. Its flagship line of REMUS AUVs, together with Kongsberg Maritime's HUGIN, MUNIN and Seaglider underwater vehicles, provide marine professionals worldwide with intelligent marine robots they can rely on. These innovative full-picture AUV systems are utilized internationally in marine research, defense, hydrography and energy exploration. This family of AUVs represents the most advanced, diversified and field-proven line of AUVs and support systems in the world.
For more information on Hydroid and Kongsberg marine robotics technology, please visit www.km.kongsberg.com or www.hydroid.com.
Featured Product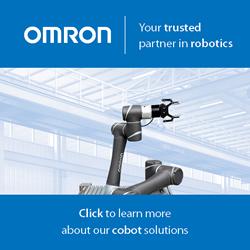 Humans and robots can now share tasks - and this new partnership is on the verge of revolutionizing the production line. Today's drivers like data-driven services, decreasing product lifetimes and the need for product differentiation are putting flexibility paramount, and no technology is better suited to meet these needs than the Omron TM Series Collaborative Robot. With force feedback, collision detection technology and an intuitive, hand-guided teaching mechanism, the TM Series cobot is designed to work in immediate proximity to a human worker and is easier than ever to train on new tasks.