More than 100 new makers to take over Henry Ford Museum for two days of unbridled creativity and fun.
Dearborn, Mich. July 16, 2014

The Henry Ford will celebrate its fifth year of hosting Maker Faire Detroit by showcasing more than 100 new tinkerers, hackers and inventors on July 26-27. New this year guests can expect to take part in the Official Nerdy Derby, see live demonstrations from Pewabic Potterys Education Studio, hear live performances by Detroits Dear Darkness and even have a chance to build their own model truck with Construct a Truck USA. With more than 400 makers, this two-day festival has a little bit of everything for the whole family to enjoy.
Participants making their debut this year or returning with a new project include Ali Kermani, creator of the Razor Crazy Cart, Americas Got Talent® contestant and Michigan maker The Sprice Effect, displaying his complex Rube Goldberg machine, our first all-female makerspace, the Hacker Gals of Kalamazoo, Detroits own Pewabic Education Studio, White House Maker Faire participant Inventables presenting the Shapeoko 3D Carving Machine and returning Ann Arbor makerspace Maker Works who will be bringing the Official Nerdy Derby to Maker Faire Detroit for the first time. Maker Faire Detroit favorites returning for 2014 include The LifeSize Mousetrap, handmade arts and crafts faire presented by DIYpsi, EepyBird with Coke and Mentos, and making their first appearance since year two, Detroits Theatre Bizarre.
In honor of the 50th anniversary of the Moog synthesizer, The Henry Ford will be hosting "Close Encounters of the Synth Kind," a special presentation during the Faire that brings together the pioneers, experts and Makers involved with the ongoing legacy of synthesizers and experimental electronics. During the weekend Herbert Deutsch, close collaborator on the first Moog synthesizer, author Dave Tompkins and UK-based artist-designer Paul Elliman will give multimedia lectures and performances complimented by a group of modern-day Makers who will demonstrate their own analog synthesizers and circuit bent/hacked musical instruments. Henry Ford Museum will also display the 1964 Moog synthesizer, considered to be the first complete prototype Moog.
Guests wanting the ultimate Maker experience can download the free Maker Faire Detroit app via Apple App or Google Play stores to make the most of their weekend. The app includes a schedule, a map, maker descriptions, general faire info and newsfeed with updates from The Henry Ford. It also allows users to quickly build a personalized agenda of what they want to see and do during the weekend. Those who download the app before July 19 receive a 25% off coupon towards their purchase of Maker Faire Detroit tickets.
Ticket prices for Maker Faire Detroit are $28 for adults (13-61), $19.00 for youth (5-12), and $26 for seniors (62+) and can be purchased now. Children 4 and under are free. Members of The Henry Ford receive 50 percent off admission to Maker Faire Detroit. Shuttle service is sponsored by the University of Michigan-Dearborn and is available at the Fairlane campus located 19000 Hubbard Dr in Dearborn. For more information, visit our website at http://www.makerfairedetroit.com or like us on Facebook at http://www.facebook.com/makerfairedetroit.
Maker Faire Detroit is independently produced by The Henry Ford in collaboration with Maker Media. Maker Faire Detroit is sponsored by Ford Motor Company Fund, Pure Michigan and Siemens PLM Solid Edge software.
About The Henry Ford
The Henry Ford in Dearborn, Michigan is an internationally-recognized cultural destination that brings the past forward by immersing visitors in the stories of ingenuity, resourcefulness and innovation that helped shape America. A national historic landmark with an unparalleled collection of artifacts from 300 years of American history, The Henry Ford is a force for sparking curiosity and inspiring tomorrows innovators. More than 1.6 million visitors annually experience its five attractions: Henry Ford Museum, Greenfield Village, The Ford Rouge Factory Tour, The Benson Ford Research Center and The Henry Ford IMAX Theatre. A continually expanding array of content available online provides anytime, anywhere access. The Henry Ford is also home to Henry Ford Academy, a public charter high school which educates 485 students a year on the institutions campus. For more information please visit our website thehenryford.org.
About Maker Media
Maker Media is a global platform for connecting makers with each other, with products and services, and with our partners. Through media, events and ecommerce, Maker Media serves a growing community of makers who bring a DIY mindset to technology. Whether as hobbyists or professionals, makers are creative, resourceful and curious, developing projects that demonstrate how they can interact with the world around them. The launch of MAKE Magazine in 2005, followed by Maker Faire in 2006, jumpstarted a worldwide Maker Movement, which is transforming innovation, culture and education. Located in Sebastopol, CA, Maker Media is the publisher of MAKE Magazine and the producer of Maker Faire. It also develops "getting started" kits and books that are sold in its Maker Shed store as well as in retail channels.
Featured Product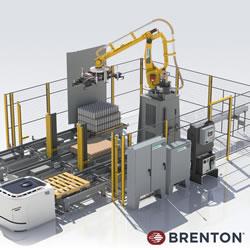 Brenton is a leader in robotic solutions with standard product offerings including palletizing and depalletizing for efficient an option for carrying hard-to-handle products, as well as larger scale systems with an optimized footprint; and case and carton loading solutions for numerous industries. In addition, Brenton works with customers on integrated solutions, offering robotics in a broad spectrum of robotics to fully integrate end of line systems. Brenton helps packaging customers protect their reputation and grow the trust of their consumers.