– The RE2 HDMS Utilizes Open-Architecture and is Vehicle Independent –
PITTSBURGH, PA - July 28, 2014 - RE2, Inc. announced today the release of its Highly Dexterous Manipulation System (HDMS) product line. The HDMS includes dual robotic manipulator arms and a moveable humanoid torso that can be easily mounted onto a robotic platform to efficiently conduct a variety of missions, including explosive ordnance disposal (EOD) operations, manufacturing, healthcare, and others.

RE2s HDMS product line, which was designed specifically for mobile systems, is extremely flexible and configurable. The HDMS is available in multiple dexterity configurations, including, but not limited to 11, 15 or 16 degrees-of-freedom (DoF). Tele-operated control is achieved using RE2s Imitative Controller technology. Traditional controller methods (i.e. dials/switches, gaming controllers, etc.) are not practical for effectively and efficiently controlling highly dexterous manipulator arms, especially dual-arm systems. The RE2 Imitative Controller provides highly intuitive control of dexterous dual-arm manipulation systems.
"The HDMS provides near humanlike capability and control. Our system offers significant performance and capability improvements over currently fielded manipulators on unmanned systems," stated Jorgen Pedersen, president and CEO of RE2.
Features and Benefits of RE2s HDMS:
• Highly Dexterous
• Power-dense -11 DoF system weighs 33.5 pounds but can lift over 100 pounds
• Efficient - runs off of standard DC voltages and draws minimal current
• Fast - moves over 90 degrees per second per joint
• Affordable compared to competitive systems
• Highly Reliable - utilizes proven commercial-off-the-shelf components
• Open Architecture - supports JAUS or ROS communication protocols
• Compatible with the AEODRS architecture
• Compatible with the US Armys IOP (interoperability profiles)
• Vehicle Independent - can be mounted on any JAUS or ROS based robotic platform
R&D funding for RE2s dexterous manipulation efforts was provided under the Department of Defenses Small Business Innovation Research (SBIR) program with both the Army and the Navy. Development of a dexterous manipulation system began in 2006 with the Office of Naval Reseach (ONR). Building on this, dual-arm manipulation designs were developed with the U.S. Armys Armament Research, Development and Engineering Center (ARDEC). The HDMS low-cost power-dense actuation technology was developed with the Office of Naval Research (ONR). Under the ARDEC SBIR, RE2s innovative actuation technology was incorporated into
an 11 DoF variant of HDMS. ONR went on to fund the development of 15 and 16 DoF variants, providing near humanlike dexterity. ONR continued to support RE2s dexterous manipulation research by funding the development of the highly intuitive Imitative Controller.
Watch videos and learn more about the RE2 HDMS at www.resquared.com/hdms.
About RE2, Inc. RE2 is a leading developer of Intelligent Modular Manipulation Systems. RE2s mission is to advance the state of the art of mobile manipulation. RE2s development efforts are focused on creating interoperable manipulation systems, intuitive human robot interfaces, and advanced autonomy software for mobile robotics. For more information, please visit www.resquared.com or call 412.681.6382.
Featured Product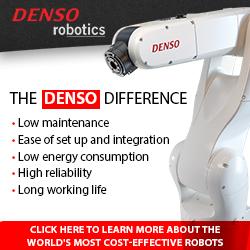 DENSO is the world's largest manufacturer - and user - of small assembly robots, employing over 17,000 of its robots in its own facilities. Over 77,000 additional DENSO robots are used by other companies worldwide. The compact, high-speed robots are used in traditional manufacturing sectors, as well as in advanced-technology applications in the medical, pharmaceutical and life sciences industries. Learn more about DENSO Robotics