Leading industry experts partner together in Troy, MI to deliver an update on the ground-breaking improvements made to the additive manufacturing process and 3D Printing.
July 31, 2014

FISHER/UNITECH, a top reseller of SolidWorks® 3D design software and Stratasys 3D Printers, will host a technical counsel on the advancement of 3D printing on Tuesday, August 12, 2014 at 10:00 AM at Automation Alley, located at 2675 Bellingham Dr. in Troy, MI. FISHER/UNITECH has partnered with Stratasys Corp and Automation Alley to deliver a riveting update on the ground-breaking improvements in additive manufacturing including both PolyJet and Fused Deposition Modeling (FDM) technologies.
Attendees can expect to hear from industry experts on how 3D printing has revolutionized manufacturing and receive free advanced training. The FISHER/UNITECH rapid technology team will present on several new ways that 3D printing is being used in tooling and industrial automation including injection molding and metal casting applications. Guest speaker, Michael Wegman from Stratasys Corp. will give attendees insight on the Stratasys business strategy and advances in material science that are driving new uses for additive manufacturing.
"3D printing is entering an exciting new phase for manufacturing due to advances in our build envelopes and new materials. We are looking forward to joining FISHER/UNITECH at Automation Alley to share our insights on these advances," said Michael Wegman from Stratasys Corp.
"We are excited to share our expertise in 3D printing applications with the Automation Alley community," said Charlie Hess, President at FISHER UNITECH. "In addition, we are pleased to have Michael Wegman present the Stratasys strategy for additive manufacturing. It will be a productive event for those interested in applying 3D printing to their product development process," he said.
The 3D Printing Tech Update is complimentary and all are welcomed to attend. Registration is required. For more information, registration and the complete agenda, please visit http://www.funtech.com/Events/3D-Printing-Technology-Update.
About FISHER/UNITECH (http://www.funtech.com)
FISHER/UNITECH, established in 1993, provides Product Lifecycle Management (PLM) and Rapid Technology solutions to the discrete manufacturing industry. The companys focus is on process improvement for product development and manufacturing. With locations throughout New England and the Midwest, the company is a leading reseller of SolidWorks 3D mechanical design, analysis and data management software, as well as the full line of Rapid Technology equipment from Stratasys. Rapid Technology applications include Direct Digital Manufacturing (DDM), Rapid Prototyping and 3D Printing. Professional services are offered for design automation and data management which provides customers with a full service, one-stop source for complex PLM systems. The company offers advanced web-based delivery of training with its live, instructor-led 3DU. Please visit the company's website at (http://www.funtech.com) or call 800-816-8314.
Featured Product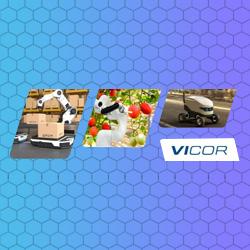 STMicro Electronics and Mouser have partnered to create a repository of resources that showcases STMicro's extensive expertise in Industry 4.0 applications. Explore articles, blog posts, white papers, eBooks, and videos that will expand your knowledge and enhance your next design.