Next Intent Owner Rodney Babcock to be Hosted by Gibbs and Associates
MOORPARK, California, August 11, 2014 --

Cimatron Limited (NASDAQ: CIMT), a leading provider of integrated CAD/CAM software solutions for the toolmaking and manufacturing industries, announced today that Rodney Babcock, president and owner of Next Intent, will deliver a presentation in the Gibbs and Associates booth at IMTS 2014. Mr. Babcock has 35 years' experience in manufacturing, including manual and computerized CNC programming and machining. He will discuss national space exploration projects and his company's participation in the manufacturing, assembly and testing of specific components for these projects. Specializing in the design, machining and assembly of components for aerospace, defense, and national laboratories, Next Intent is located in San Luis Obispo, California. Mr. Babcock's presentation will be on Tuesday, September 9 - Thursday, September 11th daily at 10:00 a.m. and at 2:00 p.m., in the Gibbs and Associates Booth, E-3310.
Next Intent has been a Gibbs customer since its founding by Mr. Babcock, in 1996, using GibbsCAM to program all of its milling and turning machines. The company has been a user of GibbsCAM solids and 5-axis machining since 2000. Among its various projects, Next Intent has provided components for the Mars Exploration Rovers Spirit and Opportunity, the Mars Science Laboratory Rover Curiosity, the James Webb Space Telescope, the National Ignition Facility (operated by the Lawrence Livermore National Laboratory), and the Antares Rocket, developed for missions to the International Space Station.
IMTS will run September 8-13, 2014, at Chicago's McCormick Place. The GibbsCAM (and CimatronE) exhibit is in Booth E-3310 of the Controls and CAD-CAM Pavilion.
About Gibbs and Associates and GibbsCAM
For thirty years, Gibbs and Associates has been a leader in providing cutting edge CAD/CAM technology, while maintaining its signature ease-of-use and productivity. Powerfully Simple, Simply Powerful is the guiding philosophy at Gibbs. Gibbs believes in empowering the NC programmer, machinist, and manufacturing engineer, not eliminating them. Gibbs' goal is to introduce manufacturers to new technologies and new ways of working that makes their machining easier and their businesses more profitable. To achieve this goal, Gibbs creates tools that are naturally intuitive, graphically interactive, extremely visual, associative, and just plain enjoyable to use. Gibbs provides a total quality solution with the service and support that successful customers require.
The current GibbsCAM product line supports 2- through 5-axis milling, turning, mill/turning, multi-task simultaneous machining and wire-EDM. GibbsCAM also provides fully integrated manufacturing modeling capabilities that include 2D, 2.5D, 3D wireframe, surface, and solid modeling. GibbsCAM is Compatible with Windows 7, Windows 8 and Certified for Windows Vista. GibbsCAM's data exchange capabilities are able to access the broadest range of native and industry standard CAD data formats. GibbsCAM is certified under the Autodesk Inventor Certified Program, is a Siemens Solution Partner Program-PLM for Solid Edge product, and is a SolidWorks Certified CAM Product. GibbsCAM is either offered or endorsed by a number of leading worldwide control and machine tool manufacturers, including GE Fanuc, Infimatic, Siemens, Doosan Infracore, DMG / Mori Seiki, Haas, Index, MAG, Mazak, Mitsubishi, Okuma and Tornos. Gibbs and Associates distributes its products worldwide through a network of international Resellers.
In January 2008, Gibbs and Associates merged with Cimatron Ltd., and is now operating as a wholly owned subsidiary. For more information about Gibbs and Associates and its CAM software packages, visit http://www.GibbsCAM.com or call 1-800-654-9399 (outside of North America: +1-805-523-0004).
About Cimatron
With over 30 years of experience and more than 40,000 installations worldwide, Cimatron is a leading provider of integrated, CAD/CAM software solutions for mold, tool and die makers as well as manufacturers of discrete parts. Cimatron is committed to providing comprehensive, cost-effective solutions that streamline manufacturing cycles, enable collaboration with outside vendors, and ultimately shorten product delivery time.
The Cimatron product line includes the CimatronE and GibbsCAM brands with solutions for mold design, die design, electrodes design, 2.5 to 5 axes milling, wire EDM, turn, mill-turn, rotary milling, multi-task machining, and tombstone machining. Cimatron's subsidiaries and extensive distribution network serve and support customers in the automotive, aerospace, medical, consumer plastics, electronics, and other industries in over 40 countries worldwide.
Cimatron's shares are publicly traded on the NASDAQ under the symbol CIMT. For more information, visit http://www.cimatron.com.
Featured Product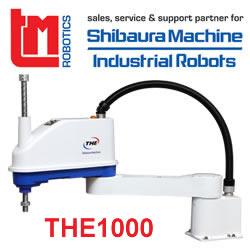 Designed for assembly and inspection applications in the electronics equipment and automobile components industries, the THE600 SCARA is a powerful automation tool. Advancing from the specifications of the existing THE400 SCARA, the THE600 has been developed to meet growing demand for fast-cycle automation. The THE600 model includes improvements in synchronised control and tracking precision. The THE600 is compact in design and offers improved high speed, with 60 per cent higher payload capacity than competing SCARA models in the same price range, making it the price-to-performance leader. Affordable price, impressive performance.