Worldwide Fab Labs will receive SOLIDWORKS 3D CAD software to aid in designing and fabricating Digital Fabrication projects.
Cambridge, MA August 21, 2014

The Fab Foundation is pleased to announce a donation of 3D design software from the Dassault Systemes SOLIDWORKS Corporation to the more than 350 facilities in the Fab Lab Network. Each official Fab Lab will be eligible to receive one commercial license of the SOLIDWORKS 3D CAD program Premium version. In addition, Fab Labs that are sites for the global Fab Academys How to Make (Almost) Anything course will be able to get a 10-seat network license of the 3D CAD SOLIDWORKS Education Edition.
The donation was announced by Marie Planchard, SOLIDWORKS Director of the Education Community at FAB10, the recent international Fab Lab meeting in Barcelona, Spain. "Since our founding in 1995," explains Ms. Planchard, "SOLIDWORKS has wanted to be more than just a supplier. To formally achieve that goal, we instituted a number of programs that help users ranging from our active SOLIDWORKS Community to a project identifying startup companies that need technical support to assisting First Robotics teams. There are 28,000 schools that teach with SOLIDWORKS and 240 SOLIDWORKS user groups around the world with the underlying principle to share knowledge and expand capabilities for everyone to succeed in their design and digital fabrication projects."
Fab Foundation Director Sherry Lassiter says the SOLIDWORKS contribution comes at a perfect time for Fab Labs. "As our network grows, Fab Lab projects are becoming more complex, and in many cases, developing into commercial opportunities. To support these projects, the Fab Foundation wants to provide Fabbers with the powerful design and engineering resources they need to produce professional projects that will have a beneficial impact on lives and livelihoods around the world. The SOLIDWORKS contribution is a terrific, enabling resource to everyone who participates in a Fab Lab, and we so appreciate that SOLIDWORKS has the vision and capacity to support the Fab Lab network in this way. "Lassiter adds that the availability of SOLIDWORKS software to Fab Academy sites is important as "all digital fabrication students registered for our "How to Make (Almost) Anything" course will have access to a sophisticated design tool for creating their projects, whether for social or economic benefit. Thats pretty special."
The collaboration between SOLIDWORKS and the Fab Foundation grew out of the Fab Lab program at the MIT Center for Bits and Atoms [CBA], where the digital fabrication laboratories, or Fab Labs, originated. Explains Ms. Planchard, "FormLabs, a 3D Printing company founded by graduates of MITs CBA, was one of the startups we mentored with CAD software help. We were also introduced to the CBA by Leigh Christie, MIT instructor and director of eatART, who creates mechatronic devices for art museums in order to inspire students in STEM education. Seeing these great connections, SOLIDWORKS knew we wanted to have a close relationship with the Fab Lab Network."
Designers see SOLIDWORKS as one of the most intuitive CAD programs for 3D design on the market. The easy user interface comes from the software companys understanding of the designers specific application. Whether for education, rapid prototyping, design consulting or industrial product development, the user interface speeds up the design process. For companies such as Hasbro or Hamilton Beach time to market is essential for competitive advantage and SOLIDWORKS helps bring these manufacturers to positions as industry leaders. Advanced features of SOLIDWORKS software include an easier interface to machine code that can be key in getting a design manufactured, as well as sustainable design assistance.
SOLIDWORKS 3D CAD can be used to drive all the tools in a Fab Lab including laser cutters and markers, ShopBot CNC milling machines, 3D Printers, and other digital fabrication machines. The application for qualified Fab Labs to receive the software is available through the Fab Foundation website
About the Fab Foundation
The Fab Foundation was formed February 9, 2009 to facilitate and support the growth of the international fab lab network. The Fab Foundation is a US non-profit 501(c) 3 organization that emerged from MITs Center for Bits & Atoms Fab Lab Program. Our mission is to provide access to the tools, the knowledge and the financial means to educate, innovate and invent using technology and digital fabrication to allow anyone to make (almost) anything, and thereby creating opportunities to improve lives and livelihoods around the world. Community organizations, educational institutions and non-profit concerns are our primary beneficiaries. The Foundation has three programmatic foci: education (.edu), organizational capacity building and services (.org), and business opportunity (.com).
About SolidWorks
Powered by the Dassault Systèmes 3DExperience Platform, SolidWorks 3D applications help millions of engineers and designers succeed through innovation. SolidWorks delivers an intuitive experience in product design, simulation, publishing, data management, and environmental impact assessment. For the latest news, information, or an online demonstration, visit our Web site (http://www.3ds.com/solidworks) or call 1-800-693-9000 (outside of North America, call +1-781-810-5011).
About Dassault Systèmes
Dassault Systèmes, the 3DEXPERIENCE Company, provides business and people with virtual universes to imagine sustainable innovations. Its world-leading solutions transform the way products are designed, produced, and supported. Dassault Systèmes collaborative solutions foster social innovation, expanding possibilities for the virtual world to improve the real world. The group brings value to over 150,000 customers of all sizes, in all industries, in more than 140 countries. For more information, visit http://www.3ds.com.
CATIA, SOLIDWORKS, SIMULIA, DELMIA, ENOVIA, GEOVIA, EXALEAD, NETVIBES, 3DSWYM and 3DVIA are registered trademarks of Dassault Systèmes or its subsidiaries in the US and/or other countries.
Featured Product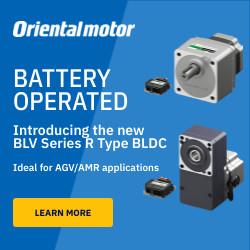 The BLV Series R Type brushless DC motor (BLDC motor) speed control system offers the design of motor and driver significantly reduced in size and weight, yet high-power, and contributes to the battery driven automation. The BLV Series R Type is compatible with the two interfaces of Modbus (RTU) and CANopen communication.