Learn about ASA at booth #N-6144 during IMTS, Sept. 8 –13 at McCormick Place in Chicago
Minneapolis & Rehovot, Israel - Sept. 8, 2014 - Stratasys Ltd. (Nasdaq:SSYS), a leading global provider of 3D printing and additive manufacturing solutions, today announced availability of a new thermoplastic material option for its FDM-based production 3D printers: ASA (Acrylonitrile Styrene Acrylate).

ASA is an all-purpose material used for the production of prototypes, manufacturing tools and finished goods. Manufacturers in the automotive, electronics, commercial, sporting goods and construction industries can benefit from ASAs UV stability, strength and durability. Applications include jigs and fixtures, electrical boxes, recreational vehicles and outdoor tools
Compatible with the Fortus 360mc, 400mc and 900mc 3D Production Systems, ASA thermoplastic surpasses the capabilities of ABS, offering UV resistance, so parts will resist fading & remain durable with long-term exposure to direct sunlight. ASA offers an exceptional surface finish and has the best aesthetics of any FDM material available. Compared to ABS, details such as printed text and other features are greatly improved by ASAs matte finish.
"As 3D printing becomes a more mainstream production process, and parts are used for a longer period of time and in diverse environments, UV resistance becomes a must-have feature," explains Brendan Dillon, product manager for Stratasys. "Once customers use ASA, they may not go back to ABS."
Easy to use, ASA is a "green-flag" material allowing Stratasys Insight software users the ability to produce parts using default settings with a single click. Available in black and ivory, ASA is compatible with existing Stratasys SR-30 support material and priced similar to ABS.
Contact a local reseller to learn more about ASAs benefits and purchasing options. Additional information about ASA including images, a brochure and material data sheet are available by visiting the newsroom on Stratasys website.
Featured Product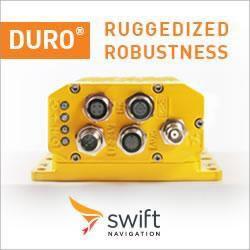 Duro® and Duro Inertial are enclosed dual-frequency RTK GNSS receivers. Designed and built to survive long-term, outdoor deployments, the easy-to-deploy Duro and Duro Inertial combine centimeter-accurate positioning with military ruggedness at a breakthrough price. Duro Inertial features an integrated IMU for continuous centimeter-accurate positioning in the harshest of outdoor deployments.