Upgrading 3D Modeling with Optimized Functionalities
Guangzhou, China: September 16, 2014— ZW3D, one of the world's leading suppliers of advanced CAD/CAM solutions for the manufacturing industry, today announced the availability of ZW3D 2014 SP. This new version features more than 300 improvements in CAD and CAM modules, enabling users to design more flexibly and machine faster.

Upgrading 3D Modeling with Optimized Functionalities
Improvements of ZW3D 2014 SP cover every aspect of ZW3D's CAD functions, such as upgraded file translator to support data interoperability with JT files, new part family to accelerate design of parts variations, new " Open in ZWCAD" feature to leverage specialized DWG functions and more enhanced modeling tools to provide interactive design environment. These customer-driven optimizations of ZW3D CAD can help users to conceptualize their creative ideas efficiently into products with less project budget and faster time-to-market.
"ZW3D 2014 SP has much better drafting, so I end up importing concept models into ZW3D to detail," commented Dave Dunkin, owner of Mossberg Ltd. "I love the sketch features in ZW3D."
Strengthening CNC Machining with Enhanced Operations
The latest developments of ZW3D CAM focus on roughing tool path, optimizing cut order of sub-regions with around 20%~30% of no-cut travel time saved. With more improved CAM functions, such as automatic corner finishing, wave tool path for stone polishing and easier hole machining on 2D drawings etc., ZW3D 2014 SP can ensure machining reliability, prolong tool life and improve CNC efficiency.
"In my opinion, this version is another major step forward in increasing the usability and power of ZW3D and shows that the rate of improvement continues to accelerate," added Dave.
Availability & Pricing
ZW3D 2014 SP is available immediately in 11 languages, including English, Spanish, and Portuguese. The Italian and Japanese versions will be coming soon. Please click here to get a 30-day free trial.
To learn more about ZW3D CAD/CAM, please follow ZWSOFT on Facebook or join ZW3D exhibitions & seminars on Global Tour .
Featured Product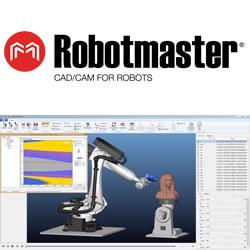 Since Robotmaster V7 uses integrated CAD/CAM functionality, for the first time, the power of Robotmaster can be used by welding, cutting and other process experts without buying or learning complex CAD/CAM software. As in past versions, Robotmaster V7 imports paths, but now makes it even easier for end users to leverage any CAD/CAM tool choice. It is an intuitive tool that anyone could use, with or without robotics expertise. It bridges the gap between robots and manufacturing by providing easy programming solutions for part manufacturing.