"Active-Semis highly integrated PAC™ IC Family simplifies system design of motor and power control and offers ultra-small system footprint and low cost while achieving industry benchmark system performance."
DALLAS--Active-Semi International, Inc. (www.active-semi.com) announces today, the general availability of its HYDRA-X scalable development platform that enables developers and makers to rapidly prototype systems with Active-Semis industry-leading Power Application Controller (PAC)™ IC Family. The scalable HYDRA-X platform has already been used for applications such as brush-less DC motor control, power tools, small appliances, robotics, toys, and LED lighting systems.

"Active-Semis highly integrated PAC™ IC Family simplifies system design of motor and power control and offers ultra-small system footprint and low cost while achieving industry benchmark system performance. The newly released HYDRA-X development platform further helps to jump-start prototyping with PAC™ ICs, and significantly cuts down the time-to-market," says Mark Cieri, Vice-President of Sales & Marketing at Active-Semi. "Since initial launch, we also have been seeing rapidly increasing demand and enthusiasm from the growing maker communities."
The HYDRA-X platform release includes 2 scalable general-purpose Hydra "body" boards, namely, HYDRA-X10 and HYDRA-X20 based on PAC5210 and PAC5220 ICs, and 4 stackable Hydra "heads" that extend the functionality of the Hydra body boards to specific applications. Customers and developers can build their own Hydra heads that target their specific system needs. Active-Semis patented and highly integrated family of PAC™ ICs integrates multi-mode power manager (for AC-DC or DC-DC conversion), configurable analog front-end, data converters, gate-drivers, on-chip temperature sensor, GPIO, and serial ports along with an ARM® Cortex MCU. This versatile power management and controller IC eliminates multiple discrete IC chips typically used in other solutions, reducing printed circuit board area.
"Were seeing growing demand for scalable, rapid prototyping platforms such as the HYDRA-X," said Ira Suko, Director of Semiconductors at Digi-Key Corp. "Were pleased to add this new and exciting product line from Active-Semi to our line card, offering customers yet another option for new product design and development."
"We are excited to add Active-Semis HYDRA-X power controller solution kits to our in-stock portfolio," says Kristin Schuetter, Vice-President of Supplier Management for Semiconductors at Mouser Electronics. "These small form factor HYDRA-X evaluation kits based on Active-Semis PAC™ ICs put more power into the hands of Makers everywhere enabling quick power controller and motor control based designs."
"While similar in concept to Arduino, HYDRA-X further simplifies customer time-to-market with highly integrated PAC™ IC Family," says Bernhard Sonnentag, CEO of Ineltek. "We are also excited about the growing number of HYDRA-X customer resources available through design/maker community participation on this platform."
HYDRA-X10, HYDRA-X20 and stackable HYDRA-X head boards are now orderable from Digi-Key Corp (www.digikey.com), Mouser Electronics (www.mouser.com) and Arrow Electronics (www.arrow.com) globally, and from Ineltek (www.ineltek.com) in Europe.
For more information on HYDRA-X solution kits and PAC™ family, visit www.active-semi.com/hydra or email sales@active-semi.com
ACTIVE-SEMI Inc.:
Founded in 2004 in Silicon Valley and headquartered in Dallas, Texas, Active-Semi is a rapidly emerging leader in the multi-billion dollar power management IC and intelligent digital motor drive IC markets. The company's portfolio of analog and mixed signal SoCs (systems-on-chips) are scalable core platforms used in charging, powering and embedded digital control systems for end applications such as industrial, commercial and consumer equipment. The company offers power application microcontrollers, DC-DC, AC-DC and PMU products that significantly reduce solution size and cost, improve system reliability, and reduce system development cycle-time by over 50 percent.
Active-Semi ships about 50 million power ICs per quarter, and shipped over 1.5 billion ICs to-date. The multi-national company focuses on commercializing industry leading power management IC solutions and has over 150 patents granted and pending.
For more information visit: http://active-semi.com
Featured Product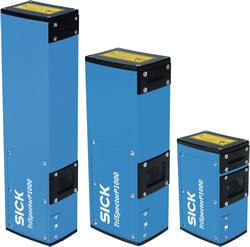 Take your quality inspections to the next level with tailor-made 3D solutions from SICK, Inc. The TriSpector1000 is a stand-alone, configurable 3D vision sensor that reliably inspects objects regardless of variations in color, height, shape, or position. It is suited for solving quality control issues and can be used for volume & thickness measurement and inspection of box integrity. Check out SICK's quality inspection solutions at Pack Expo 2019 in Booth #LS-6419.