Design in the Age of Experience: Enabling Access to 3DEXPERIENCE Platform; New Enhancements Fully Driven by Users
VELIZY-VILLACOUBLAY, France — September 18, 2014 — Dassault Systèmes (Euronext Paris: #13065, DSY.PA), the 3DEXPERIENCE Company, world leader in Product Lifecycle Management (PLM) solutions, 3D design software and 3D Digital Mock Up, today announced SOLIDWORKS 2015, the latest release of the companys successful portfolio of 3D design software applications. With SOLIDWORKS 2015, users gain access to cloud-based capabilities and a wider range of choices for improving productivity, work processes, operating costs.

SOLIDWORKS 2015 covers all comprehensive aspects of the product development process with an intuitive, integrated 3D development environment that includes 3D design, simulation, electrical design, product data management and technical communication. In addition, starting with the new Collaborative Sharing feature, SOLIDWORKS 2015 enables access to Dassault Systèmes 3DEXPERIENCE platform and its cloud-based capabilities. Designers and engineers can span multiple disciplines with ease, shortening the design cycle, increasing productivity and collaborating to deliver innovative products to market faster.
"Weve listened to our users and noted how, as their business success grows, their design needs rapidly expand," said Bertrand Sicot, CEO, SOLIDWORKS, Dassault Systèmes. "This is why we are so attentive to our users needs. More than 90% of the functionality in SOLIDWORKS 2015 has been directly requested by customers. With the 3DEXPERIENCE platform now accessible, users can connect their existing SOLIDWORKS desktop applications to the cloud and begin developing new business processes and enjoy 3DEXPERIENCE powered new generation apps, such as SOLIDWORKS upcoming Industrial Design application. Todays announcement is a testament to our ongoing commitment to users."
SOLIDWORKS 2015 not only delivers key enhancements requested by the entire user base, but also solutions for a wide array of industries and markets. For example, SOLIDWORKS users will be able to easily enhance the aesthetics of consumer products and apparel, and simulate construction machinery, building infrastructure and machine tools better than ever before.
"With the emphasis on the direct-from-3D-model fabrication processes, its important that we shift our focus to model-based definition so that we can shorten our overall design cycle and simplify the way we do things," said Ryan Trulli, Mechanical Engineer, GE Oil & Gas. "With SOLIDWORKS Model Based Definition, the 3D model itself holds all the dimensional data necessary to make the part. This means less documentation creation, fewer emails flying around, and fewer files to sustain when the project is complete."
SOLIDWORKS 2015 Portfolio Enhancements
Following are the top user-requested features, products, and enhancements included in the SOLIDWORKS 2015 portfolio:
Improve Everyday Productivity
*Focus On Design, Not Modelling with new features that reduce geometry creation steps.
*Faster Information Sharing - Improved general performance, faster analysis and streamlined approaches give users the data to quickly make decisions and keep designing.
*Enhanced User Experience - An improved graphical interface presents a clear view of critical data to help focus on design.
*Simulate Multiple Design Scenarios - Quickly evaluate the effects of various load combinations on a model, and tracking results.
*MySolidWorks Standard - The new MySolidWorks Standard and Professional subscription levels deliver more than 100 hours of SOLIDWORKS training materials and online file exchange services.
Optimize Work Process
*Collaborative Sharing - By easily accessing social collaboration and online data management tools on the 3DEXPERIENCE platform, users can benefit from faster development and quicker decision making.
*SOLIDWORKS Treehouse - Top-down design is facilitated by visually creating assemblies, enabling product structures to be managed at the beginning of design projects.
*Web2 for SOLIDWORKS Enterprise PDM - With the addition of mobile connectivity, users can connect to Enterprise PDM from any location, at any time.
Reduce Operations Costs
*SOLIDWORKS Model Based Definition - A new offering to help improve communication between design and manufacturing teams by enabling them to communicate product and manufacturing information (PMI) in 3D.
*SOLIDWORKS Inspection - The process of creating documentation is simplified, allowing users to quickly set up and compare baseline data to production parts for quality control.
*SOLIDWORKS Electrical - Quickly develop electrical schematics and incorporate them into the 3D model with enhanced cable harness and system integration.
*Enhanced Cost Analysis - Users can estimate costs across many manufacturing methods, including weldments, plastics, castings and 3D printing.
Solve More Design Challenges
* Improve Manufacturability of Products with Compound Curvature - Automatically flattening of 3D models, to help identify materials and manufacturing issues. This feature is especially helpful to those in the apparel, footwear, upholstery and shipbuilding industries.
*Enhance Product Aesthetics and Usability - Creating asymmetrical fillets for parts, assemblies and surfaces gives users in the high tech, medical and consumer industries increased flexibility to model more ergonomic and stylized designs.
*Accurately Simulate Machine Components - Developing accurate construction machinery and machine tools with automated roller chains helps ensure operation and usability.
For more information about SOLIDWORKS 2015, including video demonstrations, please visit www.solidworks.com/launch. SOLIDWORKS 2015 is currently available worldwide through SOLIDWORKS authorized resellers. For more information or to discuss pricing with an authorized reseller in your region or country, please visit: http://www.solidworks.com/locateVAR/.
About Dassault Systèmes
Dassault Systèmes, the 3DEXPERIENCE Company, provides business and people with virtual universes to imagine sustainable innovations. Its world-leading solutions transform the way products are designed, produced, and supported. Dassault Systèmes collaborative solutions foster social innovation, expanding possibilities for the virtual world to improve the real world. The group brings value to over 190,000 customers of all sizes, in all industries, in more than 140 countries. For more information, visit www.3ds.com.
Featured Product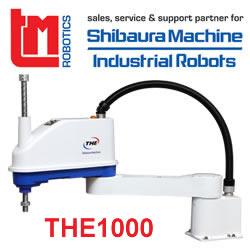 Designed for assembly and inspection applications in the electronics equipment and automobile components industries, the THE600 SCARA is a powerful automation tool. Advancing from the specifications of the existing THE400 SCARA, the THE600 has been developed to meet growing demand for fast-cycle automation. The THE600 model includes improvements in synchronised control and tracking precision. The THE600 is compact in design and offers improved high speed, with 60 per cent higher payload capacity than competing SCARA models in the same price range, making it the price-to-performance leader. Affordable price, impressive performance.