Maxim Integrated's subsystem reference design allows designers to interface Pmod peripherals with an Arduino-compatible microcontroller board.
SAN JOSE, Calif., Sept. 22, 2014 -- Achieve rapid prototyping with a wide range of production-quality sensors using the Pmod-to-Arduino adapter (MAXREFDES72#) from Maxim Integrated Products, Inc. (NASDAQ: MXIM). The MAXREFDES72# allows any board with Pmod connections to plug easily into Arduino-compatible microcontroller platforms. Using industry-leading Maxim components, this adapter is ideal for quickly creating Internet of Things designs, and allows for more convenient accessibility to a broader range of digital processors and applications.

The Pmod form factor has long allowed integration of professional-grade peripherals into engineering prototypes, especially on FPGA-based platforms. The MAXREFDES72# bridges the gap between the Pmod and Arduino-compatible form factors, thus opening a new audience of developers using Arduino-compatible microcontroller boards. The result is greater accessibility to quality components and faster, easier designs. Maxim offers 15 single function peripheral modules and 13 reference design boards with Pmod connectors, and now each is easily compatible with any Arduino-compatible development board.
Key Advantages
*Ease of design and time savings: designers achieve proof of concept faster; no more struggling with the interface between boards.
*Expanded functionality and versatility: makes Pmod boards more accessible to a broader range of applications; quickly connects to Arduino-compatible microcontroller boards for evaluation.
Commentary
* "The real world is analog, and Maxim's collection of Pmod-compatible peripheral modules has enabled rapid prototyping of real world interfaces with FPGAs," said Greg Steiert, Senior Member of Technical Staff at Maxim Integrated. "This reference design extends that same rapid prototyping ability to the vast array of low-cost Arduino-compatible microcontroller development boards."
* "Arduino represents an important and rapidly-expanding ecosystem of ARM developers," said Dominic Pajak, embedded strategist, ARM. "It's great to see high-quality sensor components from Maxim adding to the diversity and choice available to system developers focused on driving innovation around connected devices and services for the Internet of Things."
Availability and Pricing
*The board is available for $25 at Maxim's website and select franchised distributors. Evaluation software is provided free with the board.
*For information on other reference designs, please visit Maxim's Reference Design Center.
About Maxim Integrated
Maxim is the leader in analog integration. From mobile to industrial solutions, we're making analog smaller, smarter, and more energy efficient. Learn more at www.maximintegrated.com.
Featured Product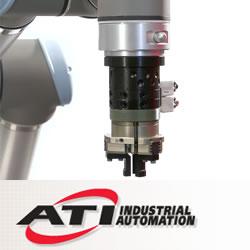 ATI Industrial Automation's MC-10 Manual Tool Changer provides a cost-effective solution for quickly changing tools by hand. Its compact yet robust design is optimized for collaborative robot applications. The ergonomic twist-collar locking mechanism ensures a secure attachment of the tool and easy manual operation with tactile feedback. This Manual Tool Changer can carry payloads of up to 22 lbs and includes multiple fail-safe features that resist vibration and prevent loosening. The MC-10 Manual Tool Changer has integrated air pass-through connections and options to connect electrical utilities if needed. ATI will feature the new MC-10 along with a variety of other robotic demonstrations and product displays at this year's IMTS show in Chicago (Booth #236417).