HAXLR8R Bridges Shenzhen and Silicon Valley Igniting the New Industrial Revolution Through Hardware Innovation
SHENZHEN, China--HAXLR8R, the worlds first and most active hardware accelerator program, today announced updates to its program, a larger Shenzhen office, increased funding for startups and the appointment of former IDEO design lead Duncan Turner as the new program director in Shenzhen. HAXLR8R has hatched more than 40 startups such as Nomiku, Everpurse, Spark, Petcube and Makeblock. HAXLR8R is currently taking applications for its sixth class until November 15. Apply at www.haxlr8r.com/apply.

Hardware is changing the world, and thanks to software and Shenzhen it is stirring up the next industrial revolution. HAXLR8R bridges Silicon Valley and Shenzhen and is the catalyst of this emerging revolution. As the worlds capital for electronics and manufacturing, Shenzhen has reached critical mass and has become an accessible ecosystem for hardware startups. To make the most of this rapid growth in hardware innovation, HAXLR8R is amplifying its program by increasing its batch size and will now be offering up to $100,000 in seed funding for each startup.
To support this growth, HAXLR8R is moving its operations to a brand new office with 15,000 square feet in the heart of Shenzhens electronic district Huaqiangbei, which will feature a workshop, event space and a showroom. "Throughout the years, weve seen an increase in the number of quality hardware startups joining HAXLR8R. These startups have larger teams and are often joining at a later stage of development than before," said Cyril Ebersweiler, investor and founder of HAXLR8R. The larger space will also be able to house former HAXLR8R startups that are returning to Shenzhen to build their business.
Joining the new HAXLR8R Shenzhen office is Duncan Turner. He comes from IDEO, where he led a broad range of strategic projects. Prior to IDEO, Duncan successfully launched and scaled hardware startups in the U.K. and China. He has taken numerous products to market, from early conception to final development and sales. Turner joins HAXLR8R as the companys program director and will be managing the Shenzhen office and accelerator programs. He will be in charge of the operations, strategic direction of the program and provide hands-on mentoring to HAXLR8R startups.
"I have always had a passion for startups and for the value that is being created in China for these hardware entrepreneurs. I believe the HAXLR8R model, which is a truly unique and exciting initiative, will be a catalyst for major changes in the world of hardware startups and manufacturing," said Turner. "As Program Director, I will have the chance to help shape the progress and evolution of hardware startups and play a part in their success. I feel honored to have this opportunity."
Founded in 2012, HAXLR8R is wrapping up its fifth class of 10 start-ups on November 5 with a Demo Day in San Francisco. Out of the 40 startups that have completed HAXLR8R, more than half have run successful crowdfunding campaigns and raised millions as a part of HAXLR8Rs unique "Lean Hardware Startup" approach. Always on the cutting edge of hardware and complex projects, HAXLR8R has accelerated a steady flow of innovative startups in markets such as wearables, IoT, sensor technology and home automation devices. As the program evolves, the advancement in robotics has increased in popularity and will become an important theme in HAXLR8Rs future. To see the hardware accelerator in action, please visit http://vimeo.com/108187181.
About HAXLR8R
HAXLR8R ("Hack-celerator") is a mentor-driven seed accelerator designed to identify, invest in, and support entrepreneurs who are solving world issues by blending hardware and software technologies. HAXLR8R selects the best companies from around the world to take place in a 111-day intensive, "lean hardware approach" program based in the mecca of electronics: Shenzhen, China. To date, HAXLR8R has accelerated more than 40 companies and is considered to be the trailblazer of the 'hardware renaissance'. For more information, visit www.haxlr8r.com, follow us on Twitter @haxlr8r and follow the HAXLR8R companies on Kickstarter www.kickstarter.com/pages/haxlr8r.
Featured Product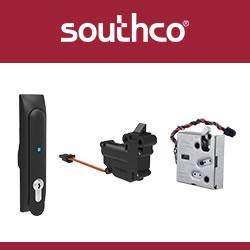 Many robotics engineers need to securely mount and latch sensitive electronic components in their robotics applications; Southco is able to help reduce theft and vandalism with our proven and reliable access technologies. Learn how Southco can help secure your robotics, or other smart city application, from theft and vandalism.