MakerMex seeks to make 3D printing technology available to everyone with the MM1, recently funded on Kickstarter.
Charlotte, NC October 28, 2014

MakerMex is wrapping up the last stretch of its successful crowdfunding campaign for the versatile MM1 3D printer on Kickstarter by announcing exciting add-ons to the platform. In addition to informing backers about the availability of a new RepRap upgrade kit and introducing a new light duty milling head, MakerMex has also announced that the MM1 platform will be open source.
The MakerMex founders feel strongly that MM1 technology should be open source. This means that all product source files related to the MM1 will be completely available to all. The individual, interchangeable modules created will be licensed to give the designers of MM1 interchangeable systems the ability to choose what they do with these modules. All MM1 files will also be shared on the RepRap website to encourage adaptability.
"If the technology we used to invent the MM1 wasnt universally available, we wouldnt be where we are today," says MakerMex founder Sam Weatherly. "Because of that, we want to make sure that MM1 files are available to anyone who wants to use them. This open source platform will foster creativity and innovation in our younger generation."
The new RepRap upgrade kit will allow users to take electronic hardware components from existing 3D printers and upgrade them, expanding the capability of their RepRap printers. The kit, currently available on Kickstarter for $399, will give the consumer everything he or she needs to build an MM1 printer using their current RepRap model.
The MM1 is the most versatile 3D printer currently available. Its capable of printing single extrusion, dual extrusion and paste extrusion with the capability of printing with a wide variety of materials such as rubber, clay, chocolate, high strength industrial plastics, Play-doh and more. In addition to its adaptability, the MM1 also sets itself apart from the competition because its user-friendly; consumers can easily switch materials based on what their printing needs may be at that time.
Now that MakerMex has raised its $50,000 funding goal on Kickstarter, the team has introduced a new stretch goal- if the campaign raises $75,000 in funding, they will add the ability to upgrade the Z printing area from 20cm to 40cm. They have until November 1 to reach this new goal. Those interested in the MM1 and the new RepRap upgrade kit can visit the Kickstarter campaign page at http://bit.ly/MMMM1KS.
ABOUT MAKERMEX
MakerMex started when co-founder Luis Arturo Pacheco, an architecture student at Univerisad de La Salle Bajio, began using RepRap printers to develop 3D prototypes for college projects with support from co-founder and brother-in-law Sam Weatherly. While incubating at the Paque CIEN, Luis met co-founder Juan Carlos Orozco, an engineer also experienced in 3D printing and automation. The three went on to create MakerMex, the first 3D printer development and manufacturing company in Mexico. To learn more about MakerMex, visit http://www.makermex.com.
Featured Product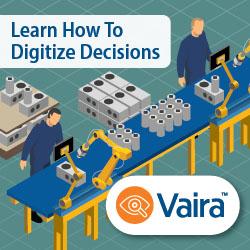 Pleora's AI Gateway simplifies the deployment of advanced machine learning capabilities to improve the reliability and lower the cost of visual quality inspection.