Teledyne DALSA, a Teledyne Technologies company and global leader in machine vision, today announced an extensive lineup of imaging products to be featured at the VISION show, November 4-6 in Hall 1, Booth D 54, Messe Stuttgart, Germany.
These include the Piranha4 multispectral quadlinear camera, the Linea series of single line Camera Link and soon to be released GigE Vision models, the Genie TS 5 M camera, as well as a preview of the new Piranha XL multi-line CMOS TDI camera and the Xtium CLHS frame grabber.

The Piranha4 Monochrome and the Genie TS cameras offer High Dynamic Range (HDR) imaging which outputs an image with a shorter exposure time and a second image with longer exposure to capture even greater detail. This functionality will be demonstrated for the first time at the VISION show.
An overview of each product follows:
* Teledyne DALSAs Piranha4 Multispectral is a quadlinear camera with RGB, plus Near Infrared (NIR) output. This latest Piranha4 extends imaging capability for many applications including 100% print inspection, banknote inspection, package and label inspection, and food inspection.
* The Linea series is comprised of feature rich, high value CMOS line scan cameras and is available today with a Camera Link interface, and soon with GigE. With 2, 4 and 8k resolutions and 80 kHz line rate, these single line cameras are ideal for machine vision applications including food, electronics, material sorting, rail and web inspection, and where low cost deployment is essential.
* The Piranha XL multi-line CMOS camera and the Xtium CLHS frame grabber offer a complete solution for next generation high speed inspections in light starved conditions such as flat panel display and printed circuit board inspection. The Piranha XL and Xtium PX4 are among a growing number of new cameras and frame grabbers engineered to take advantage of the AIAs Camera Link HS interface standard.
* The Genie TS series now includes a 5M model that can reach speeds of up to 51 frames per second in fast mode. Unique features like multiple Regions of Interest (ROI) significantly reduce the amount of data transferred while allowing systems to focus on critical processing events. The Genie TS is suitable for a wide range of applications including intelligent transport systems (ITS), entertainment, medical, food and beverage, electronics and printed circuit board (PCB) inspection.
Media Note: For interview requests, please email geralyn.miller@teledynedalsa.com or visit Booth D54, Hall 1 during the show. For high resolution images, please visit our online media kit.
About Teledyne DALSA
Teledyne DALSA image sensors, cameras, smart cameras, frame grabbers, software, and vision solutions are used in thousands of automated inspection systems around the world and across multiple industries including semiconductor, flat panel display, electronics, automotive, entertainment, medical, packaging and general manufacturing.
An international leader in digital imaging and semiconductors with approximately 1,000 employees worldwide and headquartered in Waterloo Canada, the company designs and manufactures imaging products and solutions, in addition to providing specialized semiconductor products and services.
Featured Product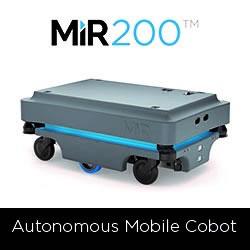 MiR200 is a safe, cost-effective mobile robot that automates your internal transportation. The robot optimizes workflows, freeing staff resources so you can increase productivity and reduce costs. MiR200 safely maneuvers around people and obstacles, through doorways and in and out of lifts. You can download CAD files of the building directly to the robot, or program it with the simple, web-based interface that requires no prior programming experience. With its fast implementation, the robots offers a fast ROI, with payback in as little as a year.