Upgrades include additional print mode and soluble support material
Learn about the new products at:

· The SEMA Show, booth #24321, Nov. 4-7, at the Las Vegas Convention Center
· EuroMold 2014, stands D90, Hall 11 and H139, Hall 8, Nov. 25-28, Frankfurt, Germany
Minneapolis & Rehovot, Israel - Nov. 4, 2014 - Stratasys Ltd. (Nasdaq:SSYS), a leading global provider of 3D printing and additive manufacturing solutions, announced the launch of two PolyJet-based 3D printers - the versatile Objet30 Prime Desktop 3D Printer and the quality-enhancing Objet Eden260VS.
Objet30 Prime Desktop 3D Printer
The Objet30 Prime Desktop 3D Printer is the most advanced PolyJet desktop 3D printer and offers an unparalleled combination of prototyping versatility and suitability for workgroups within the professional office environment.
Building on the established Objet30 platform, the Objet30 Prime features include 12 material options, among them the capability to 3D print rubber-like material (in TangoGray or TangoBlack) and bio-compatible materials such as MED610. This material is ideal for applications requiring prolonged skin contact of more than 30 days and short-term mucosal-membrane contact of up to 24 hours. This includes surgical planning and tooling devices.
The Objet30 Prime also offers the capability to prototype soft-touch parts and achieves a closer look and feel to similar end-use soft materials, enabling the simulation of parts like gaskets, plugs and seals. The build size is 11.57 in. x 7.55 in. x 5.85 in. (294mm x 192mm x 148.6mm).
Besides the two standard build modes, the Objet30 Prime exclusively introduces a third print option - draft mode, which enables 36-micron layer 3D printing for faster build speeds. This offers PolyJet desktop users the capability to 3D print the most time- and material-efficient models and parts. The Objet30 Prime also expands the number of materials available for high-quality mode to include all rigid materials.
Objet Eden260VS 3D Printer
The new Objet Eden260VS adds the first soluble support removal process for PolyJet technology.
Soluble support technology allows users to create delicate, more finely-detailed models with small cavities. Additional benefits include automated support removal, which is expected to enable businesses to enjoy lower costs per part during removal of rigid materials. The new SUP707 soluble support capability works in conjunction with Stratasys VeroGray*, VeroBlue*, VeroClear* and VeroWhitePlus** materials. For complete flexibility when the need arises, water jet-removable support can be used with these as well as other materials such as elastomers.
These attributes ensure that the Objet Eden260VS meets the application needs of a wide range of users such as consumer-good designers, research centers and service bureaus, requiring cost-effective prototyping and assembled parts with fine features.
The new Objet Eden260VS permits users entry to mid-sized, high-quality precision prototyping by offering ultrafine 16-micron layers for exceptional detail, complex geometries and very thin walls. The Eden260VS is also compatible with a range of 14 materials, including specialized options for medical applications. The build size is 10 in. x 9.9 in. x 7.9 in. (255mm x 252mm x 200mm).
For more information about the Objet30 Prime or Objet Eden260VS 3D Printers, contact a reseller or visit Stratasys website. Images, video and a brochure for both 3D printers are available by visiting the Stratasys newsroom.
*High-quality mode only
** High-quality and high-speed modes
Stratasys Ltd. (Nasdaq:SSYS), headquartered in Minneapolis, Minnesota and Rehovot, Israel, is a leading global provider of 3D printing and additive manufacturing solutions. The company's patented FDM®, PolyJet™, and WDM™ 3D Printing technologies produce prototypes and manufactured goods directly from 3D CAD files or other 3D content. Systems include 3D printers for idea development, prototyping and direct digital manufacturing. Stratasys subsidiaries include MakerBot and Solidscape, and the company operates a digital-manufacturing service comprising RedEye, Harvest Technologies and Solid Concepts. Stratasys has more than 2,500 employees, holds over 600 granted or pending additive manufacturing patents globally, and has received more than 25 awards for its technology and leadership. Online at: www.stratasys.com or http://blog.stratasys.com
Featured Product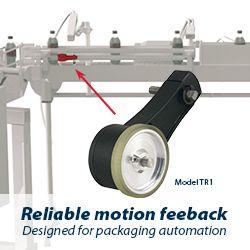 EPC is excited to announce our NEW online 3D Configurator. This new tool makes it even easier to configure EPC's products exactly how you need them for your application. The 3D Configurator interface is intuitive and works in any web browser for both desktop and mobile. It'll only take you a moment to learn your way around the program. Careful, though: it's so fun to play with, you may spend a whole afternoon on it!