3D printing, lasers, robotics and industry experts to be showcased at FABTECH
DEARBORN, Mich. November 05, 2014

SME will showcase key manufacturing technologies, including 3D printing, lasers and robotics, as well as host industry experts and allow companies to test their "workforce readiness" at its booth, B4947, at FABTECH 2014 in Atlanta from Nov. 11 to 13.
SME is an organization dedicated to supporting the manufacturing industry through membership, events, media and workforce development, while educating the current and future workforce. Its FABTECH booth will feature topics and technologies that tie back to the products, services and resources it makes available to its members, customers and partners.
"SME is highlighting these key technologies at its booth to showcase their importance in the industry, as well as how SME serves as an expert and resource in these areas," said Wayne Frost, SME's chief executive officer. "FABTECH is the premier metal forming, fabricating, welding and finishing event - SME's booth will feature topics that complement and enhance these and all areas of manufacturing."
SME will have four technology stations featuring 3D printing, lasers, robotics and workforce development. Each station will have either a live demonstration or an interactive component. Attendees will be able to have a luggage tag personalized with their name via a laser marker. And, those who take Tooling U-SME's readiness assessment at the SME booth will have the opportunity to enter a drawing to win a custom assessment for their company, valued at $5,000.
Additionally, the SME booth will feature industry experts who will speak about hot manufacturing topics, such as additive manufacturing, lasers and workforce development. View the full schedule of presentations.
All of these activities will occur at SME's booth, B4947; more information can be found at sme.org/sme-at-fabtech.
About SME
SME connects all those who are passionate about making things that improve our world. As a nonprofit organization, SME has served practitioners, companies, educators, government and communities across the manufacturing spectrum for more than 80 years. Through its strategic areas of events, media, membership, training and development, and the SME Education Foundation, SME is uniquely dedicated to advancing manufacturing by addressing both knowledge and skill needs for the industry. Follow @sme_mfg on Twitter or facebook.com/smemfg.
Featured Product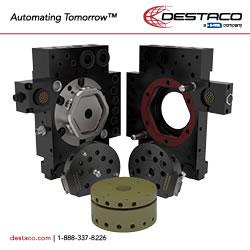 The Accelerate Collection is a range of products designed to help stamping press operators speed up their production lines with higher efficiencies. Working with our customers helped to bring innovative new products to the market, which in turn helps them produce more stamped parts per hour, while reducing moment forces and overall system wear and tear. Accelerate Collection products include Lightweight Tooling, Polyurethane Vacuum Cups, Sheet Metal Grippers, Plastic Proximity Switch Mounts, and new Digital Solutions.