Machine vision is increasingly international. Industry satisfied with new two-year rhythm
"Our expectations were exceeded by far," said Thomas Walter, Manager of Industrial Solutions Department at Messe Stuttgart, delighted. The 26th edition of VISION produced not only a record number of exhibitors (432) with a high number of foreign exhibitors (54% / 2012: 37, 49%) but also a record number of visitors. Over 8,700 trade visitors came, equivalent to a growth of around 25 per cent compared with the last event in 2012. "An especially pleasing fact is there was also a rise in international visitor interest in VISION," stressed Walter. At the last event 36 per cent of visitors came from abroad. At this event 40 per cent came from 54 countries (2012: 53). Foreign visitors mainly came from Italy, France, Switzerland, Austria, the Netherlands, the United Kingdom, South Korea, Belgium, Spain, China and Japan. It is interesting to note the strong contingency of visitors from Asia.

Ultimately the success of VISION 2014 is due to the new two-year rhythm. "It was a total success," confirmed Dr Olaf Munkelt, Chairman of the VDMA Machine Vision Group in Frankfurt and Managing Director of MVTec Software GmbH. "We are highly pleased with the number and quality of trade visitors. We have received very positive feedback from all branches of industry. Due to the new two-year rhythm we were able to make much better presentations of our innovations. In addition we are extremely satisfied with the high number of international exhibitors and visitors. It simply shows that VISION is number one internationally in machine vision," emphasised Dr Munkelt.
Exhibitors at VISION 2014 came from 31 nations - all types of company were represented, ranging from start-ups to key players. They presented their new developments in machine vision components and systems, such as cameras, image sensors, processing units, frame grabbers, software tools, lighting systems, lenses, cables, accessories and complete application solutions. For the first time, the focus was on industry PCs (IPC) and embedded PC systems which are ideally suited for complex, demanding machine vision applications. The first-time special stand IPC 4 VISION, on which eleven renowned manufacturers participated, was extremely well visited, as exhibitors confirmed: "We had many positive experiences: highly international visitors and excellent technical talks. We are very satisfied. For us the IPC stand was an excellent platform since we were also able to speak to industries which are otherwise a little further away from our core business," said Martin Krenzer, Marketing Manager Siemens, Simatic IPC/PC-based Automation. Klaus Rottmayr, General Manager of ICP Deutschland reported, "We were satisfied with the many visitors but were highly impressed by the quality of visitors. They came with very specific enquiries - trade specialists who know exactly what they want."
Machine vision is encroaching in more and more fields of application and this is reflected by the leading trade fair VISION. The event featured new focal points such as Traffic VISION and VISION 4 Automation and therefore addressed these niche markets for the first time. So it is hardly surprising that 60 per cent of trade visitors came to VISION for the first time, according to surveys. This is a rise of four per cent compared with the event in 2012. VISION targets a broad spectrum of industrial sectors. However, 75 per cent of visitors (2012: 76%) came from industry, whereby the machine vision sector itself leads with 35 per cent followed by the automobile and automotive supply industries, mechanical engineering, the electrical and electronics industries, medical technology and pharmaceuticals.
As always, the hallmark of VISION is the constantly high quality of trade visitors. Visitors come mainly from development followed by research and members of corporate management. 82 per cent of respondents (2012: 84%) said they were involved in purchasing and procurement decisions in their company.
Trade visitors also indicated a willingness to invest, a trend that is virtually uninterrupted. As a result 84 per cent of visitors to VISION 2014 (2012: 86%) intend to invest and the majority of them within the next six months. This also underlines the upwards trend in market growth and the promising outlook for the machine vision sector which experts generally rate as good.When viewed from the aspect of technology, visitors to VISION were primarily interested this time in machine vision components and applications, although turnkey systems were still in high demand. This shows that VISION is on the right road with the trend to enhanced application orientation.
Nearly 93 per cent of visitors are already looking forward to VISION 2016, which will open its doors from 8 to 10. November 2016. They intend to return.
"Messe Stuttgart would like to thank all partners who helped to make VISION into a global leading and unique information and presentation platform for machine vision," said Thomas Walter.
Featured Product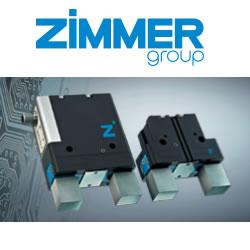 IO-Link is the first standardized IO technology worldwide for communication from the control system to the lowest level of automation.