Scientific breakthrough F-Electric 1,000 times more electrically conductive than todays best conductive filament—Makes it possible to build electronic or electromechanical capabilities seamlessly inside 3D printed structures
Seattle, WA November 10, 2014

With the 3D printer and maker movement driving a personal industrial revolution, Functionalize today launched a 30-day Kickstarter campaign to announce and bring to market a breakthrough in electronically conductive 3D printing material. One thousand times more conductive than filament available today, the new filament, Functionalize F-Electric, enables anyone to print circuits, wires, sensors, power connectors, and other electrical components inside projects printed from popular PLA-capable 3D printers. Functionalize is seeking $100,000 from the Kickstarter community to set up a production facility to bring F-Electric to market in volume.
"Imagine a world where you can 3D print your next cell phone, a drone, an Internet of Things device, or the latest in wearable electronics, complete with circuits and electrical components," said Mike Toutonghi, Functionalizes founder, CEO and chief scientist. "Thats where were going, and our F-Electric filament is a major step forward in making this a reality. Using our nanomaterials and processes, well have the chance to invent all sorts of new, functional materials that Makers need to launch their designs and prototypes."
Functionalize Powers Up 3D Printing with 1,000 Times More Electrically Conductive Filament
Todays 3D printers create inert objects out of a variety of colors and textures of plastic, but to make these objects electronically functional often requires a separate manufacturing process to add electrical components. While there have been some advancements in existing conductive material, there hasnt been plastic capable of being printed on todays common 3D printers and with enough conductivity to even light up an LED. Measuring under 1 ohm/cm, F-Electric is the worlds most electrically conductive 3D printing filament that enables electronic or electromechanical capabilities to be designed right into the structure of printed parts. Current conductive 3D filaments measure in the 1,000 - 10,000 ohms/cm range.
From Executive Dad to Mad Scientist
Toutonghis passion for technology, science, and making things has long been part of his life. From working on go-carts, mini bikes, and more as a kid, to spending almost 30 years of his life making software used by millions of people. His path for chemistry and working with nanomaterial and 3D printing plastics began on his 50th birthday when he and his son agreed to work on an electromagnetic propulsion project for his schools science fair. As he started searching for ways to use his 3D printer to print the circuits inside the plastic, ultimately skipping a soldering process that he disliked altogether, he didnt find an existing solution. From that day forward, creating conductive material became his obsession and he immersed himself in the scientific literature and built a nanotechnology lab in his house. After multiple years of experimentation and tireless analysis to synthesize graphene, metal, and plastic nano composites, he finally developed 3D printing plastic that can be used with existing 3D printers, as well as a nanomaterials production process that provides the foundation to create many types of new, functional materials that product makers will need for the next wave of the personal industrial revolution.
"Functionalize is opening a whole new frontier for 3D printing that will change the way we Makers make," said Matt Johnson, program director at intentional3D, Inc. "By allowing electrical circuits to be part of the 3D design and build process, there are endless possibilities for what can be built. We see numerous applications across many industries and think Functionalize has just begun to scratch the surface of possibilities."
Follow the Kickstarter campaign and watch the video if interested in helping Functionalize create new materials, collaborate to overcome limitations related to 3D printing, raise funds for the production of Functionalize materials, as well as equipment to increase production capacity. Backers for Functionalize, depending on the level of support, will receive access to "first-of-a-kind" products built using its electrically conductive thermoplastic material, including a 3D printed keychain flashlight, 3D printed levitator, as well as a variety of 'Makers Kits", including kits for product creators, educators, and master builders.
About Functionalize
Functionalize is focused on creating breakthrough 3D printing materials and technologies that allow anyone to go from concept to functional product to help catalyze the next wave of the personal industrial revolution. The companies first invention, F-Electric, is 1,000 times more conductive than filament available today and it makes it easy to 3D print circuits, buttons, power connectors, and more; right inside your plastic prints. For more information visit http://www.Functionalize.com, or join us on Facebook follow us on Twitter.
Featured Product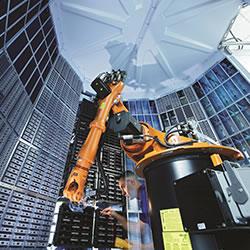 The industry's first comprehensive Robot Integrator Program saves robot integrators significant time and cost investments by allowing them to mark each cell compliant with ANSI/RIA R15.06 with the TUV Rheinland Mark. As opposed to a traditional certification or an on-site field labeling, TÜV Rheinland's Robot Integrator Program certifies the knowledge and skill-set of robot integrators in addition to testing robotic cells and processes against ANSI/RIA R15.06. This reduces the need for frequent onsite or off site testing and allows manufacturers to apply a single TÜV Rheinland label to multiple cells. The Robot Integrator Program individually assesses a robot integrator's understanding of the ANSI/RIA R15.06 standard along with the ability to consistently produce compliant robot cells. Following the requirements and procedures of the new program will enable robot integrators to produce individually compliant robotic cells under one serialized TÜV Rheinland Mark, which meets the national electric code and allows acceptance by Authorities Having Jurisdiction (AHJ) and end users.