Automation Fair will take place from November 19-20, 2014 at the Anaheim Convention Center, Anaheim, CA.
Waterloo, Ontario - November 13, 2014 - Teledyne DALSA, a Teledyne Technologies company and a global leader in machine vision technology, will exhibit its industrial vision solutions in Booth 371 at Automation Fair 2014. The two-day Rockwell Automation event will feature smart, safe and sustainable manufacturing solutions for achieving faster time to market, optimizing assets, lowering total cost of ownership, and improving enterprise risk management. Automation Fair will take place from November 19-20, 2014 at the Anaheim Convention Center, Anaheim, CA.

Featured Products
BOA Smart Cameras - Highly integrated vision systems specifically designed for factory floor automation. The BOA camera line includes a range of resolution and performance models for both monochrome and color applications. Complete with the choice of embedded application software, BOA is offered with panel ready accessories that provide integration convenience and expandability.
For a video tour of the BOA Smart Cameras click here.
GEVA Vision Systems - The GEVA platform offers the ease-of-use, performance and flexibility to meet the diverse requirements of industrial inspection. Integrated with high speed camera ports, multi-core processing and choice of application software, these systems provide the capabilities and versatility to suit a wide range of multi-camera applications.
About Teledyne DALSA's Machine Vision Products and Services
Teledyne DALSA is a world leader in the design, manufacture and deployment of digital imaging components for the machine vision market. Teledyne DALSA image sensors, cameras, smart cameras, frame grabbers, and software are used in automated inspection systems across many industries and applications. www.teledynedalsa.com/imaging/
About Teledyne DALSA, Inc.
Teledyne DALSA, a Teledyne Technologies company, is an international leader in high performance digital imaging and semiconductors. The company designs, develops, manufactures and markets digital imaging products and solutions, in addition to providing specialized semiconductor products and services including MEMS. www.teledynedalsa.com
Featured Product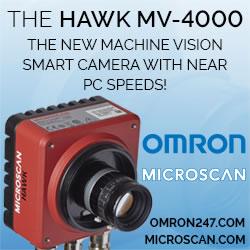 Space, or the lack of it, can be a challenge when placing barcodes or Data Matrix symbols on components. However, readable barcodes are critical to component traceability, time/date stamping, work in progress (WIP) tracking, and recall management. MicroHAWK UHD smart cameras can decode very small and difficult-to-read barcodes, including Data Matrix two-dimensional (2D) symbols and direct part marks (DPM). Users can rely on the MicroHAWK UHD to read symbols with an x-dimension almost invisible to the naked eye!