Company also directly sells DAVID scanning technologies to organizations that rely on 3D innovation for product design, prototyping, and manufacturing.
SANTA CLARA, Calif., Nov. 18, 2014 -- Growshapes, a Silicon Valley-based company that sources and advises innovators on 3D technology, today announced the first incubator program to help companies in the 3D industry grow. The company, which was founded in 2012 with the goal of helping innovators succeed through the use of advanced 3D imaging, is helping to foster and fund new companies that are transforming the world of three-dimensional technologies

Through the use of products such as the advanced 3D scanners and Laser Calibration Panels from innovative companies like DAVID, Growshapes can help innovators and designers in all aspects of manufacturing from designing, development to production as well as in marketing. Increasing numbers of organizations around the world are relying on 3D printing and scanning, as well as 3D augmented reality, to develop products and even assist in enhancing their marketing story.
"With the rate at which technology changes, innovators with great ideas don't have time to waste to turn their ideas into reality," says Geoffrey Doyle, CEO of Growshapes. "We have taken our expertise in 3D technology and built an accelerator for product design and development, taking the guesswork out of the technology and allowing innovators to do what they do best - innovate. We are also at the forefront of providing the best scanning and printing technology on the market, and are proud to sell the world-class DAVID software to help organizations make their dreams into reality."
About Growshapes
Growshapes is a Silicon Valley company that helps companies bring their visions to life in physical form as well as in digital form. The company provides products, as well as consultation, on how to adopt the best 3D-related technologies to accelerate innovation in product design, development, production and marketing. Growshapes is the Silicon Valley Authorized Reseller for Mcor Technologies' True Color paper 3D printers, the Afinia H-Series 3D printer, netfabb GmbH dedicated 3D printing software and DAVID Vision Systems GmbH 3D scanners and software. For more information, visit www.Growshapes.com.
Featured Product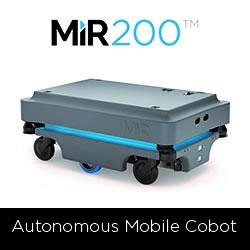 MiR200 is a safe, cost-effective mobile robot that automates your internal transportation. The robot optimizes workflows, freeing staff resources so you can increase productivity and reduce costs. MiR200 safely maneuvers around people and obstacles, through doorways and in and out of lifts. You can download CAD files of the building directly to the robot, or program it with the simple, web-based interface that requires no prior programming experience. With its fast implementation, the robots offers a fast ROI, with payback in as little as a year.