Secomea provides remote access solutions for the automation and machine industry.
VERNON HILLS, Ill. - Mitsubishi Electric Automation, Inc. now offers easy and secure remote access for programming, monitoring and logging data into its automation products by welcoming Secomea to its e-F@ctory Alliance Program. Secomea provides remote access solutions for the automation and machine industry. Under the e-F@ctory Alliance Program, Secomea products are thoroughly tested with Mitsubishi Electric products, ensuring compatibility and ease of implementation.

Secomeas integrated remote access solution consists of three products:
*SiteManager - hardware or software control unit deployed at the factory that connects to the machine network or directly to an Ethernet, Serial or USB device
*LinkManager - web browser- or Windows-based client that allows remote connection to the device
*GateManager - central M2M communication server that connects SiteManager and LinkManager
The ability to remotely connect to USB devices in addition to Ethernet and Serial devices is unique to the Secomea solution, and allows Mitsubishi Electric programming and design tools, such as GX Works and GT Designer, to communicate securely over the Internet with USB-based PLC or HMI devices, just as if they were connected locally to the service technicians PC.
"Secomea is recognized as the leading provider of secure, remote access solution by major machine builders and system integrators throughout the world," said Robert Miller, senior manager, strategic collaborations and partnerships, Mitsubishi Electric Automation, Inc. "Secomea completes a service technicians tool box for easy remote maintenance of Mitsubishi Electric HMIs and PLCs regardless of connection method."
"With Secomeas strong IT firewall background, the company has a sharp focus on the security demands required by production sites IT departments," said Miller. "Secomea recently passed a major security audit performed by an independent security organization on the entire solution."
Mitsubishi Electric's e-F@ctory Alliance Program is a third-party referencing program with other automation hardware and software vendors that allows customers to select solutions that best solve their automation challenges. Additional information is available at the e-F@ctory Alliance Program page on the Mitsubishi Electric Automation web site.
Mitsubishi Electric Automation, Inc.
Headquartered in Vernon Hills, Ill., Mitsubishi Electric Automation, Inc., offers a wide range of factory automation products, solutions, training and support services for the industrial and commercial sectors. A U.S. affiliate company of Mitsubishi Electric Corporation, Mitsubishi Electric Automation represents more than 75 years experience in the automation industry. A broad product portfolio includes programmable automation controllers (PAC), programmable logic controllers (PLC), human machine interfaces (HMI), variable frequency drives (VFD), servo amplifiers and motors, control software, computerized numerical control (CNC), circuit breakers, robots and motion controllers. The company takes its motion control solutions on the road with the 53-foot long Solutions in Motion mobile showroom that appears at tradeshows, training seminars and other events across North America. Additional information about Mitsubishi Electric Automation is available at http://us.mitsubishielectric.com/fa/en.
Featured Product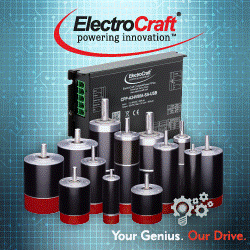 ElectroCraft exhibits its motion control product offer at Robotic related events at trade show and demonstrations across the world. We attend these events and conferences not only to show our motor and drive product offering, but to discuss and learn more about challenges involved with developing commercial robotics across markets.