MakerBot 3D Printers and Scanners Now Available in Staples
BROOKLYN, N.Y. & FRAMINGHAM, Mass.--MakerBot and Staples announced today that MakerBot Replicator 3D Printers and MakerBot Digitizer Desktop 3D Scanners are now available in 50 select Staples retail stores across 18 states. MakerBot is Staples exclusive provider in-store of 3D printing hardware, with premium in-store experiences to showcase the entire MakerBot 3D Ecosystem. This partnership makes Staples the exclusive office supply company to offer MakerBot 3D printing and scanning products in the store.

MakerBot 3D Printing and Scanning products will be showcased inside Staples retail locations, with kiosks designed to show the power and versatility of the MakerBot 3D Ecosystem in the classroom, office and professional or hobbyists workspace. MakerBot products will be available initially in 50 select Staples stores, where MakerBot 3D printing products and hands on demonstrations will be showcased. MakerBot products are also available on staples.com.
Staples will also offer access to in-store 3D print orders through RedEye, a Stratasys company and one of the worlds leading additive manufacturing service bureaus, giving Staples customers a holistic 3D printing experience, including both hardware and services.
Staples is one of the worlds largest suppliers of office supplies and technology for schools, businesses and home offices. The MakerBot in-store displays will showcase to Staples wide range of customers how they can utilize and benefit from the power of 3D printing, introducing a whole new way of teaching, working and creating. MakerBot 3D printing is used for Real-Time Prototyping™, education, collectibles, replacement parts and many other useful, educational and entertaining items.
"We are excited to partner with Staples to help bring MakerBot 3D printing technology to Staples customers," noted Jenny Lawton, acting chief executive officer of MakerBot, a global leader in the desktop 3D printer market. "Using the MakerBot 3D Printing Ecosystem, Staples customers can now integrate technology into their workflow, lesson plans and transform their design process."
"Staples is committed to offering its customers the most innovative products and services wherever they want to shop, in-store or online," said Mike Edwards, executive vice president, merchandising, Staples, Inc. "By bringing the MakerBot 3D Ecosystem to Staples, were helping our customers make more happen with their business or in their classroom."
MakerBot was founded in 2009 and specializes in desktop 3D printers and scanners. Chris Connery, a senior analyst at NPD Group, a consumer market research firm that covers the retail market, noted that MakerBot has the biggest market share of desktop 3D printers.
MakerBot believes it sets itself apart by offering an entire MakerBot 3D Ecosystem that makes 3D printing easy and accessible for everyone, including:
*3D printers and scanners
*The MakerBot website Thingiverse.com, the worlds largest 3D printing design community for discovering, creating, and sharing of 3D printable files
*Software and apps such as MakerBot Desktop, MakerBot Mobile and MakerBot PrintShop
*MakerBot Support, MakerBot MakerCare, and a parts and service support plan
*Partnerships with leading companies
*MakerBot Learning training programs
*Its own retail stores in New York, Boston and Greenwich, Connecticut
MakerBots products include the award-winning MakerBot Replicator line of 3D printers, featuring the MakerBot Replicator Desktop 3D Printer, the MakerBot Replicator Mini Compact 3D Printer, the MakerBot Replicator Z18 3D Printer, the MakerBot Replicator 2X Experimental 3D Printer and the MakerBot Digitizer Desktop 3D Scanner. MakerBot Filaments and accessories are also available in Staples retail stores and online. To learn more about MakerBot, visit makerbot.com.
About MakerBot
MakerBot, a subsidiary of Stratasys Ltd. (Nasdaq: SSYS), is leading the Next Industrial Revolution by setting the standards in reliable and affordable desktop 3D printing. Founded in 2009, MakerBot has built the largest installed base of desktop 3D printers sold to innovative and industry-leading customers worldwide, including engineers, architects, designers, educators and consumers. To learn more about MakerBot, visit makerbot.com.
About Staples
Staples makes it easy to make more happen with more products and more ways to shop. Through its world-class retail, online and delivery capabilities, Staples lets customers shop however and whenever they want, whether its in-store, online, on mobile devices, or through the companys innovative buy online, pick-up in store option. Staples offers more products than ever, such as technology, facilities and breakroom supplies, furniture, safety supplies, medical supplies, and Copy and Print services. Headquartered outside of Boston, Staples operates throughout North and South America, Europe, Asia, Australia and New Zealand. More information about Staples (SPLS) is available at Staples.com.
Featured Product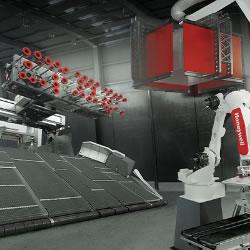 Challenges on the loading dock are characteristic of greater pressures from the rise of e-commerce. Loading and unloading freight from trailers, trucks and shipping containers are arduous, repetitive tasks plagued by high turnover. Even with regularly available staff, manually unloading freight and the constant lifting and twisting results in fatigue and inconsistent, declining productivity. Robotics capable of fully automating unloading tasks bring a new paradigm to the dock. High performance and flexibility push unloading from a labor-heavy, manual chore to an automated, refined process. High-performing DC workers can take more desirable positions, with relief from unpleasant work conditions. Management gets to replace uncertainty and staffing challenges with a reliable, automated process, with data to fuel continuous improvement.