Funding brings cutting-edge remote sensing technologies to the rapidly expanding commercial drone market.
Seattle, WA November 24, 2014

MicaSense, a sensor and information company, today announced it has raised $2M in Series A funding from Parrot, a worldwide leader in technology innovation. MicaSense delivers a fully integrated hardware solution for agricultural remote sensing from any unmanned aerial platform, tightly coupled with cloud-based analytics to provide crop health information to growers. The funding will enable MicaSense to expand its engineering and manufacturing capabilities to support a growing network of customers worldwide.
"Agriculture is one of the fastest-growing market segments for unmanned aircraft commercial applications," remarked Henri Seydoux, Founder and CEO of Parrot. "The sensors required to capture accurate data are a critical part of the solution, and MicaSense brings this technology to the table."
MicaSense has developed RedEdge, a rugged yet lightweight, professional-grade multispectral camera optimized to capture precise and repeatable information across five spectral bands.
Unlike consumer digital cameras, the MicaSense RedEdge system collects information that is quantitatively accurate, allowing data to be compared across fields and over time. MicaSense offers this capability to all UAV owners and manufacturers, enabling any small unmanned platform to deliver satellite-quality data at leaf-scale resolution when and where it is needed. After data capture, a secure cloud-based solution for processing, storage, and analytics allows growers and agronomists to easily view and manage their fields.
"The value of remote sensing to growers significantly increases with timely and cost-effective access to high-resolution, precise data," said Dr. Gabriel Torres, Co-Founder and CEO of MicaSense. "Putting actionable information into the hands of decision makers allows optimization of inputs and early detection of problems, minimizing losses and maximizing crop yields."
Working with a select group of early adopters throughout 2014, MicaSense has delivered valuable data to growers, covering more than 10,000 acres of high-value crops. MicaSense is expanding its offering of sensors and data services for spring of 2015. For more information, visit http://www.micasense.com.
About MicaSense
MicaSense develops technologies that enhance the capabilities of robotic platforms, delivering integrated solutions for data gathering, processing, and analytics. Founded by three aerial robotics experts, MicaSense has offices in Seattle, WA and Simi Valley, CA. For more information: http://www.micasense.com
About Parrot
Founded in 1994 by Henri Seydoux, Parrot creates, develops and markets advanced technology wireless products for consumers and professionals. The company builds on a common technological expertise to innovate and develop in three primary markets:
*Automotive: With the most extensive range of hands-free communication and infotainment systems for vehicles on the market.
*Civil drones: With leisure quadricopters and solutions for professional use.
*Connected objects: With a focus in audio and gardening.
Headquartered in Paris, Parrot currently employs more than 900 people worldwide and generates the majority of its sales overseas. Parrot has been listed on Euronext Paris since 2006. (FR0004038263 - PARRO) For more information, please visit http://www.parrot.com
Featured Product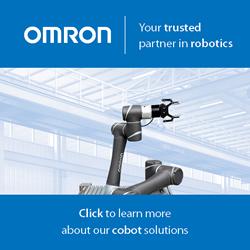 Humans and robots can now share tasks - and this new partnership is on the verge of revolutionizing the production line. Today's drivers like data-driven services, decreasing product lifetimes and the need for product differentiation are putting flexibility paramount, and no technology is better suited to meet these needs than the Omron TM Series Collaborative Robot. With force feedback, collision detection technology and an intuitive, hand-guided teaching mechanism, the TM Series cobot is designed to work in immediate proximity to a human worker and is easier than ever to train on new tasks.