Robotics Trends Media Group announces today exciting growth and developments to accelerate robotics industry expansion.
Robotics Trends Launch: With a grand unveiling on January 8, during the Robotics conference track at the 2015 International CES , Robotics Trends Media will launch a new Robotics Trends website that will address the many ways that robotics technologies and products are enhancing the way consumers live. "There is no other website out there that offers what the new Robotics Trends will. It will be the first of its kind and a staple within consumer robotics," says Casey Nobile, Robotics Trends Media Manager.

RoboBusiness to Expand Again in 2015: RoboBusiness 2015 will be held at the San Jose McEnery Convention Center in San Jose, CA September 23-25, 2015. Already slated to have a larger Showcase Floor than the record-breaking 2014 event, RoboBusiness 2015 is on pace to continue growth in all areas: global attendance, media coverage, exhibitors, and more. Officially the premier business development event of the global robotics industry, 2015 will be a can't-miss program. "This is an exciting time for the robotics industry, and RoboBusiness will be at the forefront of it all," says Ken Moyes, EH Publishing President. "We will continue to invest in and develop more ground-breaking ways to introduce robotics to the world."
Casey Nobile has been promoted to Manager of Robotics Trends Media. Nobile has been performing in this role since July and co-chaired RoboBusiness 2014, which saw record growth across all areas. She has been an instrumental part of the development of the robotics division of EH Publishing as a whole. "It's been truly amazing to watch - and cheer! - the ascension of this remarkable woman," says Thomas Green, Editor in Chief of Robotics Business Review.
Featured Product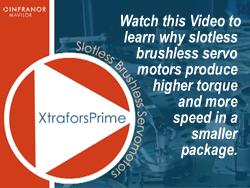 For 30 years, Infranor a motion control technology leader has been providing high-performance standard and custom motion control products and integration services. Feature Motor products include the FP series of Slotless Brushless Motors (high efficiency, best in class torque and power density, high speeds up to 30,000 RPM, smooth ZERO cogging motion, and 8 frame sizes). Pancake-style, explosion-proof, radiation-hardened, and kit motors are also available. Feature motor drives include the PAC/EASY series of compact servo drives (Sensorless, EtherCAT, CANopen, and Indexing).