At the booth, BitFlow will show a number of different CoaXPress cameras running with the Cyton-CXP frame grabber.
WOBURN, MA, NOVEMBER 25, 2014 -- At the International Technical Exhibition (ITE) on Image Technology and Equipment in Yokohama, Japan, BitFlow, Inc. will highlight its leadership in CoaXPress technology with a high-profile live demonstration of its Cyton-CXP frame grabbers.

"This is an exciting time in our industry as CoaXPress reaches a tipping point for vision applications across multiple platforms, from quality inspection to intelligent traffic systems. BitFlow is ushering in the next era in system design with our CXP frame grabbers, and demonstrating that many existing vision systems are fully capable and ready to be upgraded to CXP," said Donal Waide, Director of Sales, BitFlow. "BitFlow was at the forefront of CXP when it was first introduced, and we will continue to invest in technologies that raise our customer's productivity."
Scheduled to be held at the company's booth (#DP-05) during ITE exhibiting hours, the demonstration will show that Cyton-CXP frame grabbers provide the simplest, most cost-effective way for vision system integrators to gain higher transmission rates and improved connectivity flexibility over longer distances using standard coaxial cables.
At the booth, BitFlow will show a number of different CoaXPress cameras running with the Cyton-CXP frame grabber. They will also demonstrate how simple it is to switch cameras on-the-fly, and how multiple cameras can be tapped into a single board without compromising data rate speed or performance.
The BitFlow Cyton CXP frame grabber incorporates the Gen 2.0 x8 PCI Express bus interface on its back-end, an advancement that doubles the data rate of the Gen 1.0 bus for the ultimate high speed access to host memory in multi-camera systems, while using the same compact footprint and connectors. It brings powerful development capabilities to machine vision, industrial automation and inspection, or surveillance design projects. By supporting the CoaXPress (CXP) standard on its front end, it facilitates video capture speeds of up to 6.250 Gigabits/second (Gb/S) in applications deploying one to four CXP-6 cameras. CXP also allows control commands, triggers and power to be sent to and from cameras over the same 75 Ohm coaxial cable, greatly reducing installation costs.
For more information, please call 781-932-2900 or visit www.bitflow.com.
Featured Product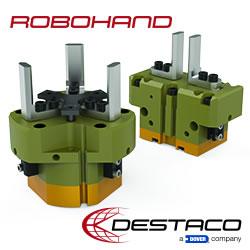 Automatically change end effector tooling quickly and easily with Destaco's Automatic Tool Changers. Designed with exceptional repeatability, high rigidity and load capacity, they are perfect for multiple tooling applications utilizing one robot. We offer different models and sizes to handle light-duty to heavy-duty applications. Our RQC/RTP Series provides a high level of flexibility with a configurable, modular design that accommodates up to four optional modular interfaces.