The incorporation of skills created by robot design is crucial to the development of industry, according to Li.
TAINAN, Taiwan--A Tainan-based research team of student and staff from the aiRobots Laboratory at National Cheng Kung University (NCKU) won 2 gold, 2 silver, 2 bronze medals, including the All-round Championship in the 2014 FIRA RoboWorld Cup on adult-sized humanoid robotics, the university announced recently.

This was the consecutive honor of championship in the same competition following last year. The NCKU team also received a gold medal on small-sized humanoid robotics in basketball contest.
The aiRobots Laboratory at NCKU led by electrical engineering professor Tzuu-hseng Li has won many domestic awards as well as international ones, especially in the FIRA RoboWorld Cup.
Prof. Li revealed, both adult-sized and small-sized robots won the All-round Runner-up in 2012, and the adult-sized robot was the Championship last year.
NCKU aiRobots Laboratory participated in the FIRA RoboWorld Cup starting 2005, aiming to improve the balance and precision of the robots hands, eyes and feet and its steps and speed, according to Prof. Li.
He also pointed out that to compete in this years contest, the function of thumb is added, allowing the robot to hook and catch, and it enhances the knees agilities too.
He said, designing and researching on robots involve interdisciplinary cooperation.
The movements of robots have to depend on delicate motors; a robot alone uses up to 24-25 motors. The balance of a robots hands, eyes and feet and other subtle control require the help of information, computer and technology as well as software design.
The incorporation of skills created by robot design is crucial to the development of industry, according to Li.
Featured Product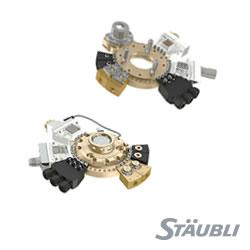 TX2 robots: redefining performance by offering collaborative safety and high performance in a single machine. These pioneering robots can be used in all areas, including sensitive and restrictive environments, thanks to their unique features. Safety functions are easy and inexpensive to implement. They allow a higher level of interactions between robots and human operators, while still guaranteeing protection of your people, production and investment.