WayKen Rapid Manufacturing Offers Industrial Design and Production Services to Companies Around the World
December 19, 2014

Virtually every company in the world today is looking for a fast way to get ahead of the competition. With Wayken Rapid Manufacturings Industrial Design services now on the radar, they finally have one.
Exploring the Possibilities
Speed and precision mean everything in todays fast-paced marketplace, and WayKen offers a variety of services to make that possible. From presentation models designed specifically for trade shows and investor presentations to prototype concept models and low-volume production, WayKen can take an idea from a computer file to reality in a matter of seconds.
"We work to streamline the design process and develop options faster than any other company. The result for our clients is quick delivery that helps move them to the next stage of the game," said Raymond Cheng, Managing Director.
WayKen also has a number of technologies at their fingertips to ensure the highest level of diversity possible including Plastic Prototype Machining, CNC Aluminum Machining, Urethane Vacuum Casting and Rapid Tooling.
The WayKen Difference
With so many companies out there suggesting other options like 3D printing might trump a service like WayKens rapid manufacturing options, some are left wondering which direction is the right one for their organisation. In this case, its clearly WayKen.
"Product quality means everything, especially when it comes to high end manufacturing, and were here to offer a better level of quality than you can get anywhere else on the planet," said Raymond Cheng, Managing Director.
The benefits certainly dont stop there, though. WayKens location has much to do with their success. Located in Shenzhen, WayKen is right in the middle of the perfect supply chain, which means that from start to finish, all of the materials are right at their fingertips. Add that to a cost competitiveness with a fully educated, flexible crew that you cant find in developing nations, and its a monetary edge you just cant beat.
Moving forward at the pace of business today demands both expertise and capacity, and WayKen Rapid Manufacturing is making that possible for companies in every industry.
WayKen Rapid Manufacturing is a rapid prototype manufacturing company based in Shenzhen, China. With sales offices all over the globe, they offer solutions for customers at all stages of the product development process.
Featured Product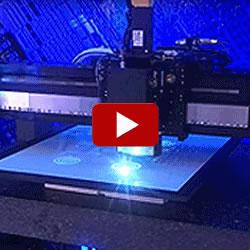 Hexapod micro-motion robots are based on very flexible concept that can easily solve complex motion and alignment problems in fields including Optics, Photonics, Precision Automation, Automotive, and Medical Engineering.