Fastest-growing 3D marketplace CGTrader.com is launching 3D Robot Challenge, where 3D designers will be competing to win prizes worth more than $7000.
As artificial intelligence and robotics increasingly take the spotlight in near-future predictions, CGTrader.com is launching a 3D Robot Challenge for its community of over 120,000 3D designers in order to design and visualize the robots of the future. The challenge encourages designers to explore the sci-fi theme with the most advanced technological creatures that could well be our neighbors, counterparts or even enemies in the coming decades.

The challenge requires creating robot 3D models and uploading them to CGTrader.com. The participants will be competing for the Best 3D Robot model and Best 3D Robot portfolio - in the latter category, designers with more models are more likely to become the winners. Each category will have a winner and two runner-ups.
The challenge runs from the 22nd December 2014 to the 15th February 2015. The designers will be competing to win Motion Design Bundles by Video Copilot, iClone Animation Pipeline Toolkits by Reallusion, two KeyShot5 licenses by Luxion, one CGschool video from V-Ray or 3ds Max by CG School, 200 credits and promotional features by CGTrader. The runner-ups will also be rewarded with prizes such as 3D Shader Bundles by Video Copilot, iClone5 PRO Bundles by Reallusion, Video of choice from V-Ray or 3ds Max classes by CG School and 100 credits by CGTrader.
"Over the past years robot models have become the fourth most popular category on CGTrader.com and we believe it is an amazing topic to capture the imagination of 3D designers who are fascinated by both machines and video games. We see the 3D Robot Challenge as a great opportunity to look into the future, improve your skills and use the holiday downtime to play and create for the futuristic theme." says Marius Kalytis, CEO of CGTrader.
CGTrader.com has been constantly encouraging 3D designers to participate in various challenges to foster creativity and imagination. Its challenges have helped designers discover new themes as well as win amazing prizes, and even produced several world-firsts. Currently, CGTrader also runs 3D Systems Art Challenge, 3D Architecture Challenge and 3D Printed Kids Toys Challenge, where designers can submit both paid and free 3D models.
About CGTrader.com
CGTrader is an online community and marketplace for 3D graphics and 3D printing specialists. What began as a place for computer graphics has evolved into the "go-to" resource for both computer graphics and 3D printing. The marketplace continues to thrive by encouraging buyers and seller communication, and offering higher margins to designers. CGTrader has been able to attract the worlds most highly regarded graphic design talent who appreciate a community that works with them, not makes money off of them. CGTrader is backed by Practica Capital and Intel Capital. For more information, visit: www.cgtrader.com.
Featured Product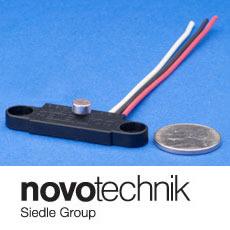 Vert-X 05E Series of dual angle/speed sensors. The series features easy mounting in small and narrow spaces with a 5 mm body depth and mounting flanges with metal inserts. The sensors make measurements only 6 mm from edge of product for close-to-wall measurement applications. Vert-X 05E Series sensors measure angles from 0 to 360°, rotational speed and direction with repeatability to 0.1°.