Boulder Mini Maker Faire Hosts Hands-On STEAM For All Ages
Boulder, Colo. (PRWEB) January 08, 2015

Think science faire on espresso, art festival on Red Bull, everything from drones to pop culture, robots to needlepoint. The Boulder Mini Maker Faire, Jan 31-Feb 1, 2015, at the Boulder Country Fairgrounds is 100+ exhibits that bring hands-on Science, Technology, Engineering, Art and Mathematics (STEAM) activities to adults and mini makers alike. Play with the inner workings of a pinball machine; learn to code or quilt; tear apart an old VCR; build with 10,000 wooden blocks, or 20,000 Lego bricks, or put your imagination to work in a massive pile of cardboard. Explore rockets and catapults and 3D printed prosthetic limbs, program a pen-equipped drawing robot or an app-powered cloud of LED lights and more!
"Our goal is to facilitate wonder - just that simple, wide-eyed appreciation of creativity and ingenuity and the belief that you can take a pile of parts and make something beautiful or useful that wasnt in the world before," says Mary Anne Zacek, co-founder of Maker Boulder, the organization sponsoring the event.
In addition to the booths of the Faire itself, the event will host the Innovation in Education Summit, a 1- or 2-day workshop for teachers interested in including design thinking and hands-on education in their classrooms. Continuing education certificates and graduate credits through Adams State University are available. The packed schedule includes a kickoff with Joey Hudy, the Arizona high school senior who famously announced the White House Maker Faire and shot a marshmallow cannon with President Obama. Additional highlights include the following:
Harvard PhD and former Khan Academy "Maker in Residence" Dr. Karl Wendt will be teaching teachers to make and program Scribot, a DIY scribbling robot - kits included!
Hands-on presentations from Boulder-area technology companies SparkFun Electronics and ModRobotics.
Speakers including JJ Morrow, head of the Colorado Gifted and Talented Association, Alex Hernandez, national thought leader in classroom-based design thinking and founder of Boulder-based nonprofit Design EDU, Patty Quinones of The St. Vrain Innovation Center and MANY MORE!
"Last year we talked with Make Magazine about doing a little weekend conference in a school gym and they were like, 'Man, youre in Boulder! It got bigger real quick," says Mary Anne. "I cant imagine a better way to celebrate the spirit of Boulder and its creative entrepreneurial, educational and, lets just say 'iconoclastic culture than at a Mini Maker Faire!"
Maker Boulder expects 5,000 attendees from the Front Range and beyond. If youre a maker, a hacker, a dreamer, a magic-bean buyer, come in, come in! Deadline for applications to make at the Faire is January 7. Tickets, maker applications, volunteer info, folding instructions for the world record paper airplane, stacking info for how to build an "impossible" cube from wooden blocks, and more are available at MakerBoulder.com.
About Maker Boulder
Maker Boulder is a community of tinkerers, hackers, prototypers, entrepreneurs and educators bringing STEAM education to the Front Range and beyond. Our mission is to connect Makers, Entrepreneurs and Educators and inspire the next generation of innovators. Through organizing events and creating content, were working with the Colorado community to create a symphony of STEAM activity that involves lots of hands-on learning, gears grinding, hackers iterating and tinkerers talking. Visit us at http://www.makerboulder.com and @MakerBoulder.
About Maker Faire
The launch of Maker Faire in the Bay Area in 2006 demonstrated the popularity of making and interest among legions of aspiring makers to participate in hands-on activities and learn new skills at the event. A record 195,000 people attended the two flagship Maker Faires in the Bay Area and New York in 2013. A family event, 50% attend the event with children. Also in 2013, 98 independently-produced Mini and Featured Maker Faires occurred around the world, including Tokyo, Rome, Santiago, and Oslo. Maker Faire is brought to you by Maker Media. Maker Media publishes MAKE magazine, produces Maker Faire, and offers DIY electronics, tools, kits, and books through its online and pop-up Maker Shed stores.
Featured Product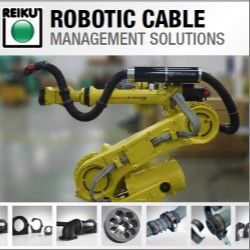 REIKU's Cable Saver™ Solution eliminates downtime, loss of revenue, expensive cable and hose replacement costs, maintenance labour costs. It's available in three sizes 36, 52 and 70 mm. All of the robots cables and hoses are protected when routed through the Cable Saver™ corrugated tubing. The Cable Saver™ uses a spring retraction system housed inside the Energy Tube™ to keep this service loop out of harms way in safe location at the rear of the Robot when not required. The Cable Saver™ is a COMPLETE solution for any make or model of robot. It installs quickly-on either side of the robot and has been tested to resist over 15 million repetitive cycles.