Premiere Fleet of Vehicles to be manufactured, sold at National Harbor in Maryland
DETROIT--A new kind of vehicle and manufacturing process will debut at the 2015 North American International Auto Show (NAIAS). Local Motors will 3D print, assemble and debut the worlds first 3D-printed car - live from the show floor.

Called the Strati, the vehicle is the first in a line of 3D-printed cars from Local Motors. The design was chosen in May 2014 from more than 200 submitted to Local Motors by the companys online co-creation community after launching a call for entries. The winning design was submitted by Michele Anoè who was awarded a cash prize plus the opportunity to see his design brought to life. Less than a year after the original design was chosen, Local Motors will premiere a mid-model refresh, which began its inaugural print on Monday, January 12 on the show floor during NAIAS.
"Since launching in 2007, we have continuously disrupted the way vehicles are designed, built, and sold," said Local Motors Co-founder and CEO John B. Rogers, Jr. "We paired micro-manufacturing with co-creation to bring vehicles to market at unprecedented speed. We proved that an online community of innovators can change the way vehicles go from designed to driven. We pioneered the concept of using direct digital manufacturing (DDM) to 3D-print cars. I am proud to have the worlds first 3D-printed car be a part of our already impressive portfolio of vehicles."
Three-Phase Process: Print, Refine, Finish
Local Motors will showcase the proprietary three-phased manufacturing process for 3D-printing cars during NAIAS 2015. The first phase in 3D-printed manufacturing is additive. Made from a carbon fiber reinforced thermoplastic material by SABIC, the current model of the Strati takes approximately 44 hours to print 212 layers. The end result is a completed 3D-printed Car Structure™.
"SABIC is pleased to have contributed the materials and processing knowledge to support Local Motors and help enable this advanced additive manufacturing approach," said Scott Fallon, general manager, Automotive, SABIC's Innovative Plastics business. "We have built expertise in additive manufacturing to further strengthen the product development support that we can deliver to our customers, from ideation through prototyping, testing and validation. We will continue to invest in the technology to help the automotive industry realize as much potential from it as possible."
The second phase of 3D-printed manufacturing is subtractive. Once 3D printing is complete, the 3D-printed Car Structure moves to a Thermwood CNC router that mills the finer details. After a few hours of milling, the Stratis exterior details take shape.
"Thermwood has been involved within a multitude of various markets, but none, until now, has lead us to the Detroit Auto Show. Thermwood is proud and excited to be part of this Local Motors venture," said Dennis Palmer, VP of Sales at Thermwood.
The last phase of 3D-printed manufacturing is rapid assembly. After the 3D-printed Car Structure is printed and refined, the non 3D-printed components, including the drivetrain, electrical components, gauges and wiring, plus the tires are added. A vinyl wrapping, paint or other surface treatment is used to complement the 3D-printed texture, resulting in a showroom-ready vehicle.
Micro-factories: The Future of Manufacturing
Local Motors will also offer the automotive industry a glimpse into the future of manufacturing. The technology company has built a working micro-factory on the show floor, giving a front-row seat of how cars will be made in the near future. A micro-factory is home to additive manufacturing, which uses digital 3D-design data, called Direct Digital Manufacturing (DDM), to make a product to exact specifications, without traditional and costly tooling.
"Gone are the days of an economy of scale in order to introduce and commercialize a technology," said Rogers. "Micro-factories are a great counterpoint because they employ an economy of scope by taking advantage of low cost tooling and co-creation, resulting in the ability to get products to market faster and in less time while using less capital to find a winning concept."
Whats more, a micro-factory, which is typically located within 100 miles of major urban centers, creates more than 100+ local jobs, reduces freight and distribution costs by 97%, increases recycling and reduces waste while speeding delivery time to market.
A Local Motors micro-factory is typically 40,000 sf and includes 20,000 sf for a Lab, used for co-creation, research, technology, education and free community events; 10,000 sf for a Vehicle Showroom and Retail Store; 10,000 sf for a Build Floor to accommodate light assembly of products and vehicles.
Two New Micro-factories to Break Ground in 2015
Local Motors is pleased to announce two new micro-factory locations: one in Knoxville, Tenn. and one at National Harbor, just outside Washington DC. The Knoxville location highlights the collaboration between Local Motors and Oak Ridge National Laboratory (ORNL), which signed a deal a year ago to design, build and print the world's first 3D-printed car. The Local Motors Knoxville micro-factory will focus on rapid commercialize of advanced manufacturing learnings from ORNL Manufacturing Demonstration Faculty and highlights the companys commitment to being a member of the newly announced IACMI. Debuting the worlds first 3D-printed car at NAIAS demonstrates the success of the public-private partnership.
The micro-factory in National Harbor will be where the first fleet of 3D-printed cars will be manufactured and sold. The location is set to break ground in Q3 2015, with the first 3D-printed vehicles to be delivered and on the road shortly thereafter.
About Local Motors
Local Motors is a technology company that designs, builds, and sells vehicles. From bytes-to-bits, the Local Motors platform combines global co-creation with local micro-manufacturing to bring hardware innovations, like the worlds first 3D-printed car, to market at unprecedented speed. Discover more at localmotors.com
Featured Product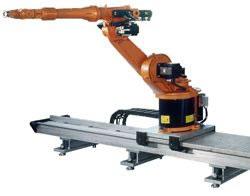 IPR Robotics offers a wide range of servo-driven 7th axis linear rails for industrial robots. These rails come in ten different sizes and are constructed from modular high strength extruded aluminum sections to handle payloads of 100 kg to 1600 kg or from steel to handle 2000 kg payloads. This variety of rail sizes allows each application to be sized correctly, controlling the space required and the price point. The drive train design of these rails utilizes helical gear-racks and is proven over 10 years to be repeatable and reliable, even in tough foundry applications.