NEW YORK, Feb. 3, 2015 -- MecklerMedia Corporation (OTCQX: MECK) announced the agenda for the Inside 3D Printing Conference and Expo, taking place on April 15-17, 2015 at the Javits Convention Center in New York City.

Sessions and speakers include:
"Twelve Years From Now," Jennifer Lawton, MakerBot
"Additive Manufacturing State of the Industry", Terry Wohlers, Wohlers Associates, Inc.
"3D Medical Printing: From Concept to Clinic, From Education to Regeneration," Dr. Scott Hollister, University of Michigan
"Metal 3D-Printing Insights: Past, Present and Future," Truan TranPham, ARCAM 3D Printing
"3D Printing: Disrupting Supply Chains," Bram de Zwart, 3D Hubs
"3D Design Geometries: Understanding and Applying Generative Microstructures," Bradley Rothenberg, studioBRAD LLC
"The Big Picture on 3D Printing: A VC Perspective," Zack Schildhorn, Lux Capital
Hod Lipson, Associate Professor at Cornell University and Conference Chair for Inside 3D Printing says:
"The 3D printing industry is a moving target. This year we tried to create a program that balances updates on the cutting edge technology, as well as coverage of more established trends. We have speakers covering the most recent developments in the 3D printing business, from fashion to aerospace, as well as a range of tutorials to help participants catch up with the basic aspects of processes, materials, software and law."
Inside 3D Printing New York will also feature a full day of tutorials, a startup competition, an in-depth consulting dinner hosted by Terry Wohlers, and eight topic tracks including medical; business and investment; food, fashion, and entertainment; law and IP; education and maker; manufacturing; art, architecture, and design; and aerospace, defense, and technical.
For more information and to register for Inside 3D Printing New York, visit inside3dprinting.com.
About MecklerMedia
MecklerMedia (OTCQX: MECK) is the leading producer of global trade shows, conferences, and digital publications covering 3D printing, robotics, and bitcoin/blockchain. MecklerMedia produces more than 25 conferences annually, including Inside 3D Printing, Inside Bitcoins, RoboUniverse, and the 3D Print Design Show. MecklerMedia's news sites include Inside Bitcoins News and 3D Printing Industry, which provide up-to-date coverage to help drive business forward.
Featured Product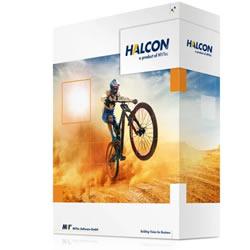 MVTec HALCON is the comprehensive standard software for machine vision with an integrated development environment that is used worldwide in all kind of industries. It enables cost savings and improved time to market. HALCON's flexible architecture facilitates rapid development of any kind of machine vision application. The software provides outstanding performance and a comprehensive support of multi-core platforms, special instruction sets like AVX2 and NEON, as well as GPU acceleration. The latest version HALCON 19.11 offers a wide range of new and improved machine vision functions. Particular emphasis was placed on the integration of further deep learning features. Now users benefit from massive simplifications for their applications, like faster inspection with anomaly detection, more transparency with the Grad-CAM heatmap and the support of ONNX format.