Lean Manufacturing, Omni-channel Distribution, Big Data, Robotics, AGVs in Assembly, Distribution Center Challenges among Key Themes for Discussion
ELK GROVE VILLAGE, Ill.--Daifuku North America, the leading provider of material handling solutions, and subsidiary Wynright Corporation, announced today a list of the subject matter experts available for briefings at ProMat 2015, the largest expo for manufacturing and supply chain professionals in North America, March 23-26.

Joining Aki Nishimura, President of Daifuku North America and Rob Schmit, President of Jervis B. Webb Company, subsidiary of Daifuku North America, are the following individuals:
* Ken Auten, SmartCart Product Manager
* Bruce Buscher, Vice President of Sales, Smart Handling
On the Wynright side, CEO Kevin Ambrose will be joined by:
* Tim Criswell, Division President of Robotics
* Clint Lasher, Division President of Engineering and Integration
* Randy Marble, Vice President of Software Solutions
* Alfredo Valadez, Vice President of Business Development, Robotics
They will be available for media and analyst briefings in Booth No. 1013 during the conference on such topics as lean manufacturing, omni-channel distribution, Big Data, robotics, Automatic Guided Vehicles (AGVs) in assembly, distribution center challenges, and others - particularly from the perspectives of workforce composition, and striking a balance between workers and technology.
To participate in the companies news conference at 9am CT on Monday, March 23, or to schedule an individual briefing with a company executive, please contact Beth Campus at 312-673-6056 or beth.campus@techimage.com.
About Daifuku North America Holding Company
Daifuku North America Holding Company, a subsidiary of Daifuku Co. Ltd., is a leading developer of innovative material handling technology such as Automatic Guided Vehicles (AGVs), Automated Storage and Retrieval Systems (AS/RS), conveyors, baggage handling systems, bulk handling systems, cleanroom systems and airport maintenance services. It includes Daifuku America Corporation, Jervis B. Webb Company, Elite Line Services, Logan Teleflex, Inc. and Wynright Corporation. Daifuku North America specializes in the design, engineering, manufacturing, installation and service of integrated systems used in the automotive, airport, semiconductor, LCD equipment, food/beverage, bulk, warehousing and manufacturing industries. Daifuku North America Holding Company is headquartered in Farmington Hills, Mich., with manufacturing locations throughout North America.
About Wynright Corporation
Wynright Corporation, a component of Daifuku North America Holding Company, is a leading provider of intelligent material handling systems. With more than 200 engineers in-house, the company designs, manufactures, integrates and installs a full spectrum of intralogistics solutions, offering both Wynright-branded and third-party equipment to meet client needs. These include leading-edge conveyor and sortation systems, voice- and light-directed order fulfillment equipment, a suite of warehouse controls & execution software, robotics, Automated Storage and Retrieval Systems (AS/RS), mezzanines, and structures, all backed by critical round-the-clock service and support.
Since its founding in 1972, Wynright has been a trusted partner to some of the worlds largest and fastest-growing companies, showing them how to use their space more efficiently to deliver improved productivity, today and tomorrow.
Featured Product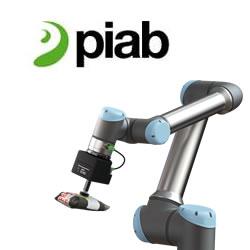 Piab's Kenos KCS gripper enables a collaborative robot to handle just about anything at any time. Combining Piab's proprietary air-driven COAX vacuum technology with an easily replaceable technical foam that molds itself around any surface or shape, the gripper can be used to safely grip, lift and handle any object. Standard interface (ISO) adapters enable the whole unit to be attached to any cobot type on the market with a body made in a lightweight 3D printed material. Approved by Universal Robots as a UR+ end effector.