Allied Vision expands its entry-level camera family, Mako with five new models ranging from VGA to 1.9 Megapixels with up to 309 fps.
Allied Vision releases five new models of its popular Mako camera family. New CMOS and CCD from CMOSIS, e2v and Sony offer high sensitivity and up to 309 fps at VGA resolution.

Mako G-030: High-Speed GigE with more than 300 frames per second
The Mako G-030 targets industrial inspection applications with a high throughput. It features the new CMV300 CMOS sensor from CMOSIS. This global shutter imager with fast readout allows for a frame rate of up to 309 fps at full VGA resolution. Thanks to its High Dynamic Range (HDR) mode and built-in defect pixel correction, the Mako G-030 delivers excellent image quality.
Dynamic Duo: Mako G-050 and Mako G-095 with new CCD sensors
Allied Vision integrates two new Sony CCD sensors with a very high sensitivity and outstanding dynamic range into the Mako series. The Mako G-050 features the ICX693 with 0.5 Megapixels and the Mako G-095 the ICX692 with 0.9 Megapixels/720p HD resolution. Both sensors outperform comparable sensors on all major sensitivity and image quality criteria: dark noise, quantum efficiency, dynamic range, and full-well/saturation capacity. They also deliver high frame rates. With their high dynamic range, these two new Mako models are ideally suited for low light image-processing applications such as microscopy and surveillance.
Mako G-131 and Mako G-192: CMOS sensors from e2v
Two additional models with CMOS sensors have been added in the middle of the Mako range: Mako G-131 and Mako G-192 with 1.3 and 1.9 Megapixels respectively. Both cameras feature Sapphire CMOS sensors from e2v (EV76C560 and EV76C570) with switchable shutter modes (rolling/global/global reset). Both models offer a high frame rate with regards to their resolution (62 and 60 fps).
Mako is Allied Vision's small and affordable entry-level camera series. With these additions, the Mako range now counts 11 models from VGA to 4 Megapixel, with a large choice of CCD and CMOS sensor available in monochrome and color version (some models with NIR-enhanced option) to cover most industrial inspection needs. All five new models are available immediately.
Featured Product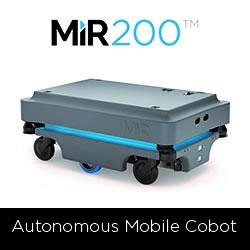 MiR200 is a safe, cost-effective mobile robot that automates your internal transportation. The robot optimizes workflows, freeing staff resources so you can increase productivity and reduce costs. MiR200 safely maneuvers around people and obstacles, through doorways and in and out of lifts. You can download CAD files of the building directly to the robot, or program it with the simple, web-based interface that requires no prior programming experience. With its fast implementation, the robots offers a fast ROI, with payback in as little as a year.