Combination creates one of the largest 3D printing and custom manufacturing service organizations in North America
MINNEAPOLIS & REHOVOT, Israel--Stratasys, Ltd. (Nasdaq:SSYS), a global leader of 3D printing and additive manufacturing solutions, announced it has combined Solid Concepts, Harvest Technologies and RedEye to form Stratasys Direct Manufacturing.

Stratasys believes this move better positions the company to meet growing customer needs for additive manufacturing (or 3D printing) services as a production method. Now one of the largest advanced manufacturing service organizations, Stratasys Direct Manufacturing creates custom solutions from a comprehensive portfolio of technologies and materials to produce parts for applications ranging from models and prototypes to end-use components and assemblies.
"Organizations need partners who can keep up with the rapidly changing manufacturing landscape and provide not only a range of services, but expertise and innovation to stay ahead of the competition," said Joe Allison, CEO of Stratasys Direct Manufacturing. "Our company brings together the latest technologies and materials, years of experience and the highest quality standards to meet the part production needs of customers across industries from aerospace and medical to consumer products and entertainment."
With eight advanced manufacturing facilities located throughout the United States, Stratasys Direct Manufacturing offers a complete range of additive manufacturing technologies, along with conventional manufacturing services, including:
* Direct Metal Laser Sintering (DMLS)
* Fused Deposition Modeling (FDM)
* PolyJet
* Laser Sintering (LS)
* Stereolithography (SL)
* Urethane Casting
* CNC Machining
* Tooling
* Molding
The depth and breadth of technology, coupled with the companys engineering expertise, allows designers and engineers to realize the full benefits of comprehensive advanced manufacturing solutions, developing quality products more efficiently at one shop.
For more information about Stratasys Direct Manufacturing, please visit www.stratasysdirect.com and also its Facebook, Twitter and LinkedIn pages.
Stratasys Direct Inc. is an indirect subsidiary of Stratasys Ltd., a leading global provider of 3D printing and additive manufacturing solutions. Stratasys Direct Manufacturing is one of the worlds largest providers of advanced manufacturing services that combines the latest technologies and decades of experience from three industry-leading pioneers—Solid Concepts, Harvest Technologies and RedEye. With a broad range of additive and conventional manufacturing services, Stratasys Direct Manufacturing assists companies at all stages of product development to bring better products to the market faster. Stratasys Direct Manufacturing has more than 600 employees across eight manufacturing facilities in the United States. Online at: www.stratasysdirect.com.
Stratasys Ltd. (Nasdaq:SSYS), headquartered in Minneapolis, Minnesota and Rehovot, Israel, is a leading global provider of 3D printing and additive manufacturing solutions. The company's patented FDM, PolyJet, and WDM 3D Printing technologies produce prototypes and manufactured goods directly from 3D CAD files or other 3D content. Systems include 3D printers for idea development, prototyping and direct digital manufacturing. Stratasys subsidiaries include MakerBot and Solidscape, and the company operates the digital parts manufacturing service, Stratasys Direct Manufacturing. Stratasys has more than 2,800 employees, holds over 600 granted or pending additive manufacturing patents globally, and has received more than 25 awards for its technology and leadership. Online at: www.stratasys.com or http://blog.stratasys.com.
Featured Product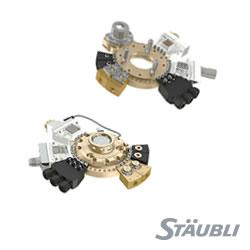 TX2 robots: redefining performance by offering collaborative safety and high performance in a single machine. These pioneering robots can be used in all areas, including sensitive and restrictive environments, thanks to their unique features. Safety functions are easy and inexpensive to implement. They allow a higher level of interactions between robots and human operators, while still guaranteeing protection of your people, production and investment.