Program provides free of charge waste disposal for 3D printing material FDM canisters and PolyJet cartridges and supports local jobs for people with disabilities---- Recycling website goes live today
MINNEAPOLIS and REHOVOT, Israel, Feb. 26, 2015 -- Stratasys Ltd. (Nasdaq:SSYS), a global leader of 3D printing and additive manufacturing solutions, today introduced a new recycling program for North American customers.

The program provides a code-compliant and free-of-charge system for disposing of waste FDM canisters and PolyJet cartridges.* Recycling is carried out at Stratasys Eden Prairie, Minnesota facilities, in collaboration with Lifeworks, a nonprofit organization serving people with disabilities.
According to Gilad Gans, President of Stratasys North America: "Being able to recycle both FDM canisters and PolyJet cartridges brings some significant business benefits to our customers. It helps them eliminate waste disposal shipping costs, reduces logistical worries, saves space and helps our customers better adhere to local compliance."
From the Stratasys website customers can print out their own pre-paid UPS shipping label. UPS then picks up and ships the recyclables straight to the Stratasys Eden Prairie facilities free of charge.**
"The new recycling program is one way were making 3D printing and additive manufacturing more convenient and accessible for
everyone," said Zehavit Reisin, Vice President for Stratasys Materials Business Unit. "We also believe that it gives our customers the satisfaction of knowing theyre doing their bit to help the environment while at the same time supporting jobs for people with disabilities in our community. The more our customers recycle, the more well be able to expand the size and scope of our Lifeworks team in Eden Prairie."
*The Recycling Program does not include disposal or shipping of dangerous goods.
**The Recycling Program is currently available in North America only.
Stratasys Ltd. (Nasdaq:SSYS), headquartered in Minneapolis, Minnesota and Rehovot, Israel, is a leading global provider of 3D printing and additive manufacturing solutions. The company's patented FDM, PolyJet, and WDM 3D Printing technologies produce prototypes and manufactured goods directly from 3D CAD files or other 3D content. Systems include 3D printers for idea development, prototyping and direct digital manufacturing. Stratasys subsidiaries include MakerBot and Solidscape, and the company operates the digital parts manufacturing service, Stratasys Direct Manufacturing. Stratasys has more than 2,800 employees, holds over 600 granted or pending additive manufacturing patents globally, and has received more than 25 awards for its technology and leadership. Online at: http://www.stratasys.com or http://blog.stratasys.com.
Featured Product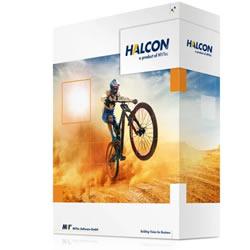 MVTec HALCON is the comprehensive standard software for machine vision with an integrated development environment that is used worldwide in all kind of industries. It enables cost savings and improved time to market. HALCON's flexible architecture facilitates rapid development of any kind of machine vision application. The software provides outstanding performance and a comprehensive support of multi-core platforms, special instruction sets like AVX2 and NEON, as well as GPU acceleration. The latest version HALCON 19.11 offers a wide range of new and improved machine vision functions. Particular emphasis was placed on the integration of further deep learning features. Now users benefit from massive simplifications for their applications, like faster inspection with anomaly detection, more transparency with the Grad-CAM heatmap and the support of ONNX format.