Boston Engineering adds KeyShot 3D rendering and animation software to its CAD and PLM reseller solutions, streamlines the product development process.
Waltham, Mass. February 27, 2015

Boston Engineering announced today that it is now a certified reseller of KeyShot 3D rendering and animation software from Luxion, a provider of advanced rendering and lighting technology. With this addition, Boston Engineering provides product development teams - including designers, engineers, and marketers - with added tools to create compelling visuals and images quickly.
KeyShot is a real-time 3D rendering and global illumination program, developed by Luxion for PCs and Macs, that breaks down the complexity of creating photographic images from 3D models. KeyShot gives users involved with 3D data the ability to create photographic images in a matter of minutes, independent of model size and without special graphics cards. KeyShot directly imports PTC Creo data on both PCs and Macs, and supports LiveLinking to maintain changes to geometry through a free plugin. Other native file formats that KeyShot supports include ALIAS, Autocad, CATIA, Autodesk Inventor, Rhinoceros, SketchUp, Solid Edge, and SolidWorks.
"Adding KeyShot to our product development and CAD reseller portfolio gives our clients more options to create dynamic visuals and to streamline the product development process between modeling and rendering," said John Driscoll, general sales manager of PTC ChannelAdvantage at Boston Engineering.
"Boston Engineering continues to provide its customers with the latest capabilities to develop game-changing products," said Bob Treiber, president and co-founder of Boston Engineering. "We combine PLM software services with industrial design and engineering consulting to offer an unrivaled breadth and depth of product development services."
Boston Engineering, the Northeasts largest PTC ChannelAdvantage reseller, provides organizations throughout New England and the Middle Atlantic with integrated sales, training, support, and services for PTC and KeyShot products. Additionally, Boston Engineerings Product Development Systems Services provides consulting and technology integration services to optimize product development teams and to align product development with core business activities.
About Luxion
Luxion is a leading developer of advanced 3D rendering and lighting technology. KeyShot is the first real-time ray tracing application that uses a physically correct render engine based on scientific research in the areas of scientifically accurate material representation and global illumination. Addressing the visualization needs of designers, engineers, marketing professionals, photographers, and CG specialists, KeyShot breaks down the complexity of creating photographic images and animations from 3D digital data. Luxions customer list includes many of the Fortune 1000 product manufacturers and major industrial design companies including Bose, Chrysler, Dell, Fossil, HP, Microsoft, Motorola, Nokia, Procter & Gamble, and IDEO. For more information on KeyShot, please visit keyshot.com or visit Luxion on Facebook.
About Boston Engineering
Boston Engineering delivers product design and engineering consulting solutions that drive innovation and achieve measurable results. We manage the entire product development process — from ideation to supply chain development. Certified for ISO 9001 and ISO 13485, our industry expertise includes consumer products, defense & security, medical devices, robotics, and industrial & commercial products. We are also the Northeasts largest PTC software reseller. Boston Engineering is headquartered in Waltham, Mass. with an additional office in the Advanced Technology & Manufacturing Center (ATMC) of the University of Mass. Dartmouth. Learn more at http://www.boston-engineering.com.
Featured Product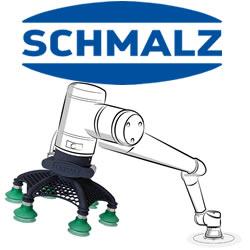 In order to interact with their environment and perform the tasks, lightweight robots, like all industrial robots, depend on tools - and in many cases these are vacuum grippers. These form the interface to the workpiece and are therefore a decisive part of the overall system. With their help, the robots can pick up, move, position, process, sort, stack and deposit a wide variety of goods and components. Vacuum gripping systems allow particularly gentle handling of workpieces, a compact and space-saving system design and gripping from above. Precisely because the object does not have to be gripped, the vacuum suction cupenables gapless positioning next to each other.